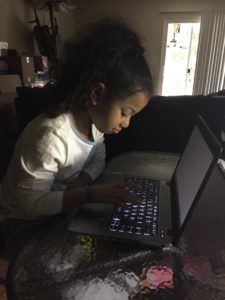 By London & Tatiauna Miller  
Hello! This is London! I've decided to take over my Mom's column, FOREVER! Just kidding! OK, well maybe for a little bit. I always wanted to know what she's doing on her laptop and she never lets me see. But I kept asking and this one time she said I could help, but I'm taking over. I didn't know what I was going to write about but then I got an idea. I'm going to write about myself! I know you're wondering if I'm typing this all by myself, yes, I am! OK, maybe my mom's doing all the work since my little fingers get tired. My mom always says my fingers are useless because I can't ever pick up anything. I know my fingers work because I like to pick up my phone, my Barbie's, my wallet and my putty. My fingers are only useless when it's chores. Nobody likes to do chores, not even my mom likes chores but somebody has to do them. Not me, not me!
It is fun being a kid in 2nd grade but sometimes it's hard. The fun times is when you can bring your stuffed animal to school, popcorn parties on Fridays and playing with my friends. What I don't like is boys that have a crush on me because that's just gross! The boys pick their noses, dig in their butts and try to act "cool" around me. My mom is freaking out right now because she wants to know more about the boys, but I don't care about them. Let's get back to the other stuff! Wait, what's the other stuff? Oh, I remember this is about my life.
I basically live with a 9 year old dog, which is my older brother named Stitch. My man Stitch! My mom doesn't like that sentence but I do! I'm 7 years old and I live in Virginia by myself. Just kidding! I think I'm the funniest person in my family because I have got jokes. I got cool jokes, stupid ones, non-funny jokes and weird random jokes that pop in my head. Here's a good joke; "What days are the strongest? Saturday and Sunday because the rest are week days" I crack myself up!
I want to be a police officer when I grow up because I'm strong! "You wanna mess with me, you gonna get big momma!" I also want to keep people safe, save lives, and look good in a uniform. Well, not right now because I'm too short but when I get older, I know I'll look good. My grandpa taught me how to fight and I'll fight anyone without breaking the law. My mom doesn't like that sentence either but I do! Ok bye! I'm going to my room to do my own business, which is not yours! Thanks for reading and it's still not your business!
Wow, I had to wrestle my laptop away from my child. Here's a lesson; never invite your child to help write your column because you'll end up with a mini editor breathing down your back. London originally wanted to type the entire thing herself but the first 3 sentences took about 30 minutes! Nobody has that kind of time! I hadn't realized how well my child could read because she reviewed every sentence I wrote. She was very concerned about the integrity of her work and I was not allowed to make any changes without her consent. This experiment took a lot of patience but I'm glad we had the opportunity. As she talked about herself, I got to learn more about her personality. I enjoyed listening to her talk about school, our dog and hearing her description of me and why I do certain things. We also had some good laughs because she got jokes. This moment was bittersweet for me, I can see she's maturing into a smart girl. I'm truly a proud parent. Thanks again for giving London and me your time! Have a beautiful day, laugh more, live more and love more.
Comments or questions are welcome.