Loading ...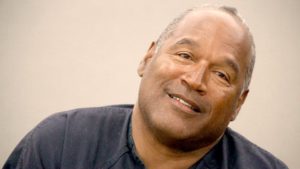 By Katrina Broner
When OJ Simpson moves to Florida, I sincerely hope I happen to run into him at a ball game or some other random place or event. I wouldn't shake his hand because I believe demons and bad luck can transfer but I would definitely say What's Up!
Any other time that would be impossible. But I happen to live near the same area as his children he's requested to live with so the chance is bumped up to very slim.
It would be better than meeting Casey Anthony. She killed her child, lied about it and got away with it. That happened here in Florida and I didn't see not one protest to kick her out after they cleared her. George Zimmerman shot and killed Trayvon, a child, even after police instructed him not to follow him. Apparently, he goes back and forth between Texas and Florida without anyone batting an eye but OJ requests to live with his children after a couple decades and everyone loses their mind.
Pam Bondi is seriously trying to ruin my chances of meeting OJ completely by leading this ridiculous charge to keep the famous football player turned murderer, turned thief out of this state.
I can't figure out exactly why for the life of me? Maybe it's because he still owes people money? Could it be that we just don't have room for yet one more senior citizen? Aha! It's because having him here just might upset the sinkhole gods and the beautiful state of Florida will be swallowed by the ocean 20 years prematurely!
Unfortunately, the reason is much darker and privileged than that. Trying to deny OJ citizenship in Florida is just a grudge based racial redundancy. It's already hard enough being racially profiled for no reason and watching unarmed black men being shot like it's open season. Black people are already systematically denied a safe, normal life. Once a black man has a criminal record in this country, the only acceptable payment of debt to society is death. If he doesn't die death stalks him and he is no longer considered a citizen but a slave of the state and once he's out not much changes. OJ is 70, has no voting rights, can't get a job, yet no one really believes he has paid his debt to society.
No one in their right mind cares that OJ was in prison on a robbery charge. People with a little power like Pam are still upset and holding a grudge for "White America" taking an "L". The bottom line is a black man killed a white woman and got away with it, alive. And that neighbors, is why Pam and others are absolutely livid and disgusted with the idea that OJ could once again be a Florida resident.
I say let the man live out the rest of his life in peace. But if I ever get to meet him I'm going to ask what he really thinks of Jay Z's song, The Story of OJ?
It's only right.
Until Next Time, Stay Awesome.
To see more of Katrina's writing follow the TrinityLife and shop at her online company 2Key Creations.
Comments or questions are welcome.