Loading ...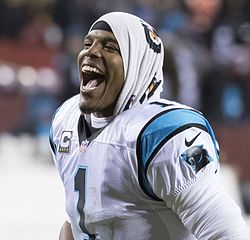 By Arita Sysamout
This week QB Cam Newton from the Carolina Panthers made a comment to a female reporter, saying "it's funny to hear a woman talk about routes", Wow! There was a lot of backlash and I'm so glad Cam stirred the pot! I'm sure he'll be just fine without the Dannon endorsement. From women all over America, we thank you for wearing that "Rosie The Riveter" pin on game day to make amends. We're good now. That part was sarcasm Cam. I could say you sound better when you strictly talk about football because that humor is super lame. At least we can both agree we hope our kids grow up to be better than what precedes them. It's 2017 and women still have to prove we have sports knowledge.
We do not get much respect when it comes to a lot of things but in this article, it's about sports. It starts a heck of a lot sooner than you think. I've been a sports mom for the last 7 years and I recall the first week of football practice. We showed up, the coaches loved my kid but didn't even introduce themselves to me. They waited until the first game day when his dad came, to express their excitement to have our son on the team and discuss future plans for him.
Mind you, dad was a basketball player and had no idea what they were even talking about and I'm the mom that was there at practice every freakin day! I'm on the team too. How do you think we watch practice 2 hours a day, 6 days a week and NOT pick up on what's going on? He must think we just stare out there admiring the grassy field. I've been watching football since I was 7 years old. I just turned on the TV one Sunday, liked what I saw and guess what? I figured it out, long before I knew I would grow up to be a sports mom or even cared about how the NFL players looked in those pants or all of the politics behind it, literally. I had no desire to suit up and play the game, but I still love it just as much as the guy next door and he didn't play either.
More recently, I was at my sons basketball game and the new to us coach asked if I knew the game of Basketball? He was more than likely in his feelings because I told him my son was a 3 man not a Power Forward. Even if he could become one it's not today so don't make him guard guys that are 4 inches taller than him. He tried to convince me I didn't see that. I chose sarcasm to deal. Had I said what I wanted to say, the coach would have cried and I would have gotten ejected from the gym. I saw the disrespect towards women is not just limited to one sport. The discrimination is overall in sports.
I like Cam as a player. He's professional within his work, one of the best quarterbacks in the game and it's not right to hold his personal opinions against him. If we did that, we wouldn't like anyone. Women are more forgiving even when it makes no sense to disrespect the women that make up half the fan base for the NFL. We aren't just tuning into see what kind of flower printed loafers Cam Newton wears to game day. That's funny to me. I guess Cam does have a little sense of humor.
The NFL is going through enough right now with people boycotting America's favorite sport. All I will say is politics don't belong in sports. It's a business just like everything else. One day those fans will be back. Women might be mad for a little while but we'll get over it. That doesn't make it alright to disregard us like that. We have seen enough HGTV to know we can build door frames and can flip a house and enough Ina Garten to whip up brunch when the in laws pop in unannounced.
Why couldn't we watch football and figure out what a route is? Women wear so many hats in life! We are the hunters and gatherers, the nurturers, healers, teachers, birth givers, football fans and natural detectives. We learn a lot just by paying attention. You could learn a lot by watching us. I know we make it look effortless and so easy but give credit when credit is due. If we don't, we'll have a race of babies that hate the ladies that make the babies. Women have been here since day one. We are your rib.
Put some respect on that name…
Comments or questions are welcome.