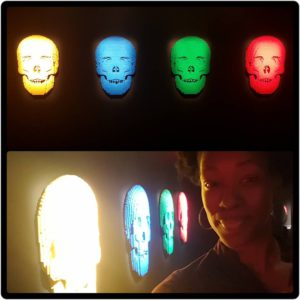 By Katrina Broner
The Beauty of A (Lego) Brick
"The first rule of this exhibit…no video or photographs. Put your phones and cameras away please. Thank you and have a great visit!" As we heard this upon entering, there were frustrated moans and then silence as Ivan, the docent, quickly informed us he was just joking!
We stood in a long line that wrapped around the building and into the vacant space of a highway overpass for about 45 minutes to see this amazing spectacle called the "Art of the Brick" in beautiful downtown Tampa. My plan was to take as many damn pictures as possible to prove it was worth the wait! It is a huge collection of original and already famous paintings and sculptures, redone ENTIRELY in Lego Bricks! But wait there's more…thanks to the Vinik Family Foundation, this event was FREE! The only rule is DO NOT TOUCH THE LEGOS. Sadly, Ivan was still getting paid for his horrible joke.
The exhibit has been here since June 23rd, my son was especially excited, all he heard was Legos and No was not an option as to if we can go. Life gets busy as a single mom, but on the next to last day, September 3rd, I was determined that my family and I would experience this awesomeness!
Before exploring the exhibit there is a two minute video on Nathan Sawaya, the artist. His creative outlet gave him fame but before then he went to college at NYU and became a corporate attorney in New York city. It was very inspiring because as much as people plan their lives, he wasn't expecting this turn for best. The wonderful thing about art is that there are no rules and it can be made from anything. Having an artistic spark myself, it is the absolute truth.
After the inspiring video, we walked a few feet to the beginning of the exhibit and we are awe struck. My eyes were big and I hear my children Gasp! In front of us there's a wall of famous paintings, a stained glass and "statues". My son immediately says "No way these are all Legos!" But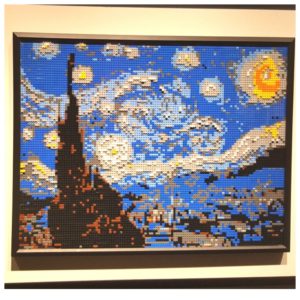 as we walk up to the pieces we see the pieces! There was the self portrait of Rembrandt, a remake of a stain glass window from a cathedral, the Mona Lisa and the always recognizable favorite Starry Night by Vincent van Gogh created by 3,493 Lego pieces. That was just the beginning, being in awe and taking pictures took about 10 minutes, but we had to keep moving.
Walking into the sculpture garden gave us pause. We didn't know what to look at first; the Venus de Milo, the bust of Nefertiti or the Moai better known as the Easter Island heads. My children crossed the room to the HUGE Moai first because they recognized it from the movie Night At the Museum. We laughed quoting the movie, "Hey Dum Dum, You Got Gum Gum!?" We had to look up in wonder of how much time and patience it took to build something so big! It took 75,450 Lego pieces and months to complete, according to the description. For me it proves that art requires dedication to crazy and daring feats for awesome results.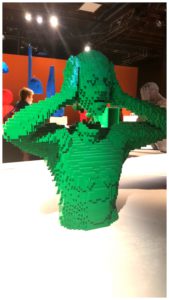 Moving through the next areas of the exhibit, we saw giant pencils, a telephone and more wall portraits. When we entered another sculpture garden we stopped to look at a green man beheading himself! This was actually one of my favorites because of the description. It is called Disintegration, made with 10,124 pieces and says, "Beware of the winds of life that nibble away at your sense of self. Stay Strong." Truth.
As we neared the end of amazing experience, there was a Tyrannosaurus, a blue man peeling his face off to reveal his skull and we became tree huggers with life size Lego people. Another show stopper were the giant primary colored skulls. I watched as my children walked up close and then backed up slowly because the Legos give a 3D effect. Up close they seem flat but from a few feet away, they look to be protruding from the wall, very cool.
Finally, we had to say goodbye, but not before we got a picture mimicking a green Lego man, considering all the beautiful and amazing pieces we had just experienced. Usually, as a parent, Legos mean pain gloom and doom but to see it turned into amazing art is a bit of a relief. I wanted to say to my children, "Seeeee…that's what they're really for!" But as always, I'm more excited that once again they learned something, while having fun. My children now have one more experience to speak of, one more memory to make them smile.
A world, an experience, art made entirely of Legos by a guy that hadn't even considered being an artist at first, he just used it as an outlet and now there's more proof that anything can be art. The Art of the Brick. I highly recommend seeing it for yourself if it comes to your city. It passes my 4 point check: Wallet friendly, family friendly, educational and fun!
To learn more about Nathan Sawaya and where the Art of the Brick will be next, visit.
Until Next Time, Stay Awesome!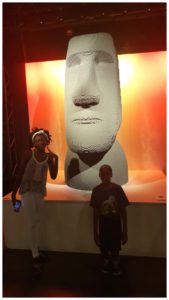 To see more of Katrina's writing follow the TrinityLife and shop at her online company 2Key Creations.
Comments or questions are welcome.