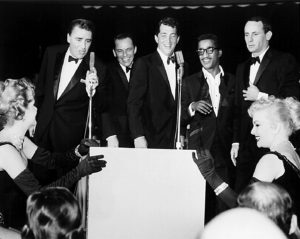 By Larry Henry
The "Rat Pack" publication by Life now on newsstands recalls, in pictures and words, the mid-century era in Las Vegas when Mafia figures, entertainers and elected officials hobnobbed together on the Strip, with the Sands hotel-casino as the neon nightlife's glamorous ground zero.
The Strip was their private playground (and cash cow), with tourists in evening attire as amused witnesses. The Rat Pack, called "The Original Bad Boys" on the publication's cover, were Frank Sinatra, Dean Martin, Sammy Davis, JR. and a select few others.
Sinatra's 1955 album "In the Wee Small Hours," now considered a classic, helped establish a mood-song tone in the post-war years that, a little more than a decade later, would explode into a cultural fireball during the youth-fueled swinging '60s, parodied by Mike Myers in a couple of "Austin Powers" movies.
It is that transitional period roughly between the mid-1950s and mid-to-late '60s that the $13.99 "Rat Pack" publication captures. It will be on newsstands until August.
The merry crooners' heyday in Las Vegas was immortalized by the release of the action movie "Ocean's 11" in 1960, starring the hard-drinking Rat Pack and their yuck-a-minute running buddies, and achieved an epoch-defining high note with the 1966 live recording "Sinatra at the Sands."
In 30 years, all that would be long gone. The racial inequities of that period made Old Vegas seem a lot less appealing. And a disturbingly high-profile wave of Mafia goons like Tough Tony Spilotro, the Chicago Outfit's pint-sized enforcer, would shoulder their way into the desert and smother the Las Vegas Valley in crime, blowing up cars, shooting rivals to death, and robbing places by knocking holes in the wall and carting out loot the same way they entered.
In 1996, the Sands was demolished, to be replaced by The Venetian.
I was living in Nevada by this time. To some during those years, the Rat Packers, tainted by their off-putting association with hoodlums, were a sketchy part of the whole corrupt mob scene that had stained the state's reputation. A lot of proud people in Nevada were tired of the negative image and frustrated that, because of these slimy characters, the negativity probably would never go away.
Over time the Rat Packers were somebody your parents might mention, like Bing Crosby or Jimmy Durante or The Lettermen.
I remember seeing Frank Sinatra perform in the late '80s or early '90s at a showroom in Reno, I think at Harrah's.
Sinatra looked worn out by then and appeared unfocused and uninspired. I recall getting a souvenir pin from somebody — seems like it might have been some memorabilia huckster in the lobby — reading, "It's Frank's World, We Just Live In It." At the time, that seemed like less than the truth.
Then things began to change, like a subtle shift in the wind. Somehow, before the major population explosion in the state, it became apparent that we and they were appreciative Nevadans together, luckily living in a place that had corrected some mistakes and now was ahead of the nation in more than a few enlightened ways, which uncool outsiders would never understand.
Maybe it was because wrecking crews were imploding classic old casinos to make way for "family friendly" megaresorts, but you began to value our performers who had a link to the past.
I remember one midweek occasion at about midnight, standing in the empty valet area at one of the Las Vegas Strip casinos — the Flamingo, maybe; I don't recall — waiting for my car with nobody else around except Dean Martin's comedic former sidekick Jerry Lewis, also waiting for his car, with a friend of his. We exchanged pleasantries — no desire for an autograph; there were no selfies then, no fans crowding around.
He was just a nice guy waiting for his car.
It was a Nevada thing.
I once ran into Wayne Newton somewhere and, on a separate occasion, Pete Barbutti, and had similar experiences, just us locals saying hello, being cordial.
Then in the weeks before the Sands was demolished, some friends and I went to a party there, held in one of the older, ground-level rooms around back.
Supposedly this was one of the romantic hideaway spots where Sinatra and the Rat Pack would unwind after their sold-out shows in the legendary Copa Room inside the casino. The hideaway hotel room, with its dated furnishings and light fixtures, had an aging but glamorous mid-century feel. You could sense the epic good times that had happened there.
We stayed for awhile, talking about those entertainers and not only their antics and questionable associations, but also their magnetism and true talent.
Because of the aura, and because we were with friends having our own good time and experiencing the passing of an era, we couldn't pull ourselves away until well after midnight, until the wee small hours.
Larry Henry's YouTube channel includes videos he shot of mob sites in Las Vegas, the apartment building in Santa Monica, California, where Whitey Bulger was arrested, and the remote Arkansas airport where Barry Seal transported drugs into the U.S for the Medellin Cartel. Subscribe HERE.
Comments or questions are welcome.