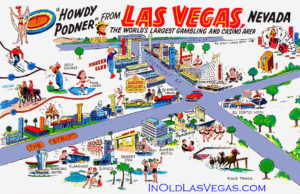 By Larry Henry
The made-up city name "Lost Wages" used to appear on postcards for sale in Las Vegas, showing a hapless tourist stranded in the desert — a camera around his neck, as I recall, and wearing Bermuda shorts — with his front pants pockets forlornly pulled out like rabbit ears, indicating he gambled away all of his money during a Sin City vacation.
Las Vegas, Lost Wages. Similar sounding, same place, according to the postcard.
I haven't looked in awhile, but my guess is you can still find those postcards somewhere around town.
The real Las Vegas, though, has nothing to do with wages. What's really lost are the long-gone major establishments that many people still associate with that mid-to-late-century period when the mob called the shots in Southern Nevada — literally.
Nowadays, Mafia tourists traveling to Las Vegas looking for some of those notorious sites won't find many, at least not on the Strip.
For instance, the Aladdin was replaced by Planet Hollywood. The Stardust, from which oddsmaker Lefty Rosenthal reigned as Southern Nevada's underworld emperor, was flattened 10 years ago. The Riviera is closed.
Of course some of the hotel-casinos that were mob-connected back then, but aren't anymore, are still around, like the Tropicana and Flamingo.
But the look and vibe aren't the same. Old Vegas is fading.
Even Oscar Goodman, the ubiquitous criminal defense lawyer who became mayor, said during a recent panel discussion at The Mob Museum that the city is "mainstream" now, with the NHL expansion Golden Knights beginning regular-season play in the fall and the NFL allowing the Raiders to move from Oakland to Las Vegas. (The Raiders are expected to remain in the Bay Area for a couple of years until a stadium is built in Las Vegas.)
These days, if you're hoping for an authentic glimpse of what the city was like during the mob era, you can visit The Mob Museum and, if you want to get out and about, drive around and see the houses where gangsters lived. The city was much smaller then, so, in most instances, those residences are within a short driving distance of downtown or the Strip.
A couple of years ago, armed with a cellphone and Google Maps app, I went on a self-guided tour of Mafia homes, shooting brief videos on different days and posting them on my YouTube channel. Below are a few of them. My YouTube posts contain additional information about each person and his or her place in Las Vegas Mafia history:
Lefty Rosenthal lived with his wife, Geri, a troubled former Tropicana showgirl, in this million-dollar home on a golf course. Click HERE.
After the Chicago Outfit sent archvillain Tony "The Ant" Spilotro to Las Vegas to oversee their criminal interests, he lived here with his wife, Nancy. Click HERE.
Mob assassins killed former Spilotro enforcer "Fat Herbie" Blitzstein execution style in this attached townhouse. Click HERE.
Jimmy "The Weasel" Fratianno, a confirmed killer and one-time acting boss of the Los Angeles crime family, lived in this house while trying unsuccessfully to establish partial ownership of a Nevada casino. Click HERE.
While Las Vegas has changed enormously over the decades with vast population growth and corporate ownership of the resorts, remnants of the city's gritty past exist. For those who look for it, parts of it are still there.
All is not lost.
Larry Henry's YouTube channel includes videos he shot of mob sites in Las Vegas, the apartment building in Santa Monica, California, where Whitey Bulger was arrested, and the remote Arkansas airport where Barry Seal transported drugs into the U.S for the Medellin Cartel. Subscribe HERE.
Comments or questions are welcome.