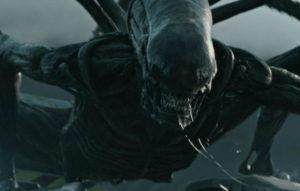 By S. Michael Simms
(DISCLAIMER: This article contains spoilers about a bunch of movies you should have already seen – if you still haven't seen any of these… shaking my head… just go see 'em.)
If you're anything like me, you're at least somewhat of a completist. You see one Friday the 13th movie, you gotta see 'em all. You try Count Chocula, you gotta try Frankeberry, Boo Berry, and Yummy Mummy on top of it. And if you see one Alien movie, there is no way in H-E-Double Hockey Sticks that you are gonna miss a new one when it comes out.
However, not all movies are created equal as you well know, and this is especially true of the Alien franchise. While each of them has its merits, some are best watched once or twice for the sake of completism and after that left alone to knock hours off your life no more.
So this week, in anticipation of the highly anticipated "Alien: Covenant" which starts at theaters this Friday (guess who's going to the midnight premiere as soon as he's done writing this?), let's take a brief look back at the previous five films. Now I know what you UBER completists are thinking: What do you mean five? What about the two Alien vs. Predator movies? Shut up.
We'll be going in order from worst to best, so if you want to start binge watching from best to worst, start at the bottom of the list and work your way up. And remember: "In space, no one can hear you scream!"
#5 – ALIEN 3 (1992)
Sad as I am to admit that David Fincher has ever directed anything barely worth watching – I mean, we're talking about the Aerosmith videos for "Janie's Got A Gun" and "Falling in Love is Hard on the Knees", followed by cult classics like "Dark City" and "Fight Club" and mainstream hits like "Panic Room" and "Seven" – I cannot tell a lie: David… David, David, David. Alien was NOT a good franchise for you, buddy.
Immediately, the audience is treated to the buzz-killing fact that the heroine from the preceding two films, Ripley, and her beloved companions, Newt and Corporal Hicks survived the horrific events of "Aliens" only to wind up anticlimactically crash landing their escape pod onto a planet of all male prisoners and the people who guard them, and oh… by the way, Hicks and Newt didn't make it! And it just gets worse from there.
They shave Sigourney Weaver's head – which, granted, wasn't a half bad look on her, but they didn't stop there: They shaved EVERYBODY'S heads! The planet turns out to be infested with aggressive lice! The whole movie is chock full of nothing but bald people (apart from a couple of cameos by Lance Henriksen who played the android that got ripped apart by the queen alien in the previous film), which I have to say made it feel like a Mad Max movie without the action.
And that is Alien 3's biggest flaw – the almost complete lack of interesting action sequences like those in Aliens, or at least an honest attempt at visceral, lingering horror like in the first movie. Instead we get a lot of goofy accents, even goofier prison politics, and these ridiculous creatures that are part dog, part xenomorph (in case you'd forgotten what the aliens were called – it literally means "alien that changes appearance").
I've seen the movie probably half a dozen times, and I can't remember much about it at all, which is much more of a testament to how dull it was than a reminder that I'm getting old. So listen, I wouldn't say SKIP "Alien 3", just go into it knowing that it doesn't measure up to its younger and older siblings in the franchise. And listen, it gets bonus points for inspiring what is still one of my favorite video games – "Alien 3" for the Super Nintendo, so even though it comes in last, it's still got its perks.
#4 – PROMETHEUS (2012)
Here's where you get to find out all about my journalistic integrity. Why? Because other than the second movie, this fifth installment (which just happens to be a prequel) is my favorite of the series. So why am I listing it at #4? Because I'm honest. That's right. The truth is, at the time of its initial release, most people did NOT like this movie. The critics hated it, and many longtime fans of the series were upset that rather than answering a lot of questions like they thought it should as a prequel, it actually left audiences with more unanswered mysteries than before.
What exactly is the mysterious and forbidding black substance the android (played magnificently by modern Peter O'Toole, Michael Fassbender) infects a crew member with when they arrive on the alien planet that hidden messages throughout earth's history has led them to thanks to a couple of brilliant archaeologists? How does the mutation process go from weird infected zombie people to Noomi Rapace getting pregnant with a little squid baby, to a giant amorphous creature like something out of an H.P. Lovecraft novel, to a little baby version of the xenomorph we've all come to know and love?
These and many more questions will bother you, but if you can put them aside and just bask in the glory of the special effects and hands down the best musical score out of any of the movies, you will actually enjoy seeing the most frightening, gory entry to date that also manages to be the most intellectual. The creature FX are mind blowing, the art direction is eerie and dark (but not in a monotonous way like "Alien 3"), and the plot is not only interesting but well-served with a stellar cast including A-Listers Charlize Theron, Guy Pearce, and Idris Elba.
Thanks to these redeeming factors, Prometheus has actually attained a bit of a cult following, having garnered a fairly impressive 71% rating on Rotten Tomatoes. Just don't try too hard to make sense of it (that's what we're all hoping "Alien: Covenant", which is a direct sequel to "Prometheus", is going to do), and you'll be anticipating the bejezus out of the latest entry yourself and thinking about that "alien abortion" scene long after your initial viewing.
#3 ― ALIEN RESURRECTION (1997)
Listen, there are only six things you need to know about this movie. You ready?
1. It was written by Joss "The Avengers" Whedon and is therefore exceedingly fun.
2. There is a half human/half xenomorph creature that is truly mind blowing and may be the most horrifying monster in the series – its demise is certainly the goriest.
3. If you thought Sigourney Weaver's Ripley character was badass in "Aliens", wait till you see a hybrid clone of her genetically altered with alien DNA.
4. Winona Ryder is sufficiently cute in this – in fact… has she aged at all since "Beetlejuice"? She was just in "Stranger Things" on Netflix and looks the same! Nosferatu!
5. Brad Dourif plays a mad scientist, his best role since "Grima Wormtongue" in the Lord of the Rings movies, and almost, but not quite, as amusing as his "Chucky".
6. It's got Ron "HELLBOY" Perlman! 'Nuff said!
Try to ignore the bad stuff (like the first CGI xenomorphs going for a cartoony swim, lousy supporting cast, and mediocre soundtrack), and you'll have a goofy good time. Not to be taken seriously, and practically a comedy in parts. Reminds one of the excellent "Starship Troopers" at times.
#2 ― ALIEN (1979)
If you're old enough to remember the original run of "Alien", then you are already aware of what a big deal it was. In those days of slow mail and even slower news, the word still got around that "Alien" was one of the scariest movies ever because people were so blown away by what they had seen that they just had to tell other people about it.
I vaguely remember my mom telling me to crouch down in the back seat at the drive-in and cover my ears during the infamous "chestburster" scene (of course I peeked!), and I remember going to the Bookmobile a year or two later and finding a beautiful, hardback, full color "Alien" companion book that some teenager had left laying within reach. Nightmare fuel, to be sure, but SO cool. H.R. Giger who designed the xenomorph (and also the creature from the "Species" franchise) created a true icon of SciFi horror.
What director Ridley Scott was able to do was play off our fears of isolation, death, monsters, parasites, and the unknown, while paying such attention to detail that it really seemed more like a home video than a movie at times. This made the death scenes that much more effective, not only in shock value but in just how real they seemed.
When John Hurt is hanging out laughing with his shipmates one second, coughing up blood the next, then has a baby alien come bursting out of his chest shortly thereafter, we are completely riveted, just where Ridley Scott wants us. Up till that point, the movie is almost boring in its mundane details, though tension has been mounting with the face-hugger incident and the ever more malfunctioning android – it really felt like you were watching a slightly less streamlined "Star Trek the Motion Picture" (winner of most boring 70's SciFi blockbuster). But once the blood starts flowing, it doesn't stop – for the film or the audience.
The incredible cast includes a star making performance from the incomparable Sigourney Weaver (who only has to strip down to her underwear once near the end – nice one, Mr. Scott) as Ripley, the compassionate but tough as nails pilot who eventually destroys the creature by "blowing it out the g*ddamn airlock" as she explains in the first of the sequels.
Weaver played the character so well that she wound up being the main protagonist for four out of the five "Alien" films. Supporting cast includes Tom "Picket Fences" Skerrit, and Mr. Bilbo Baggins himself, Ian Holm. Holm's character in particular takes the plot in such a bizarre direction that his pivotal scene nearly rivals that of the alien reveal.
Of course technology has advanced so much since 1979 that watching "Alien" today requires a bit more suspension of disbelief at the quaint computer interfaces, "space lingo" and even the creature itself, who is clearly a guy in a xenomorph suit; but Scott seems aware of these limitations and doesn't put too much focus on them, using clever lighting to shroud the creature and not relying heavily on the tech side. And again, it's a little slow out of the gate, but as soon as that tension starts building, "Aliens" is magical. Just don't expect modern special effects.
The set design and giant spaceships are impressive though, even by today's standards. Truly one of the greatest achievements in 1970's cinema right along with "Jaws", DiLaurentis's "King Kong", and "Close Encounters"; perhaps even more so because it managed to spawn a franchise that has permeated the pop culture on a mass scale. Like Star Wars, there are tons of "Alien" videogames, merchandise, and crossovers into other film universes like "Predator". For its sheer importance as an iconic film alone it deserves the number two spot…which leaves:
#1 – Aliens (1986)
I still don't know how he did it, but James Cameron somehow managed to take an awesome, unique, unbelievably badass and scary concept like "Alien" and multiply the coolness factor by like a million. As good a film as the first one was, "Aliens", may be the best mainstream movie sequel of all time (with the possible exceptions of "The Empire Strikes Back" or "The Godfather: Part II"). To me it is the perfect movie.
Chances are you've seen "Aliens" — it's the kind of film that if you run into someone who hasn't seen it, that someone grows a third eye and instantly moves down a couple'a rungs on the coolness ladder – so I don't need to get into a lot of specifics here. Roger Ebert's review of it happens to be my favorite review he ever did; he was so stunned and shocked by the horror and breakneck pace that he went above and beyond in recommending that viewers not allow their children to watch it. I disagree: You get the kids (7+) and the popcorn out and enjoy this movie as a family! There' s no boobies, and what little cursing there is, is there for humor.
Speaking of humor, the late Bill Paxton provides one of the most memorable characters ever as "Corporal Hicks", the cowardly marine who slowly starts to lose his grip; funny in spite of himself, Paxton will probably be most fondly remembered for that role and these lines: "This can't be happening man… this can't be happening! We're all gonna die! That's it man! Game Over! It's GAME OVER!!!" which are just about as iconic as "You're gonna need a bigger boat" or "I am your father".
Likewise, Lance Henriksen (who like Winona Ryder never seems to age) will also probably be best remembered for his role in "Aliens". Exploring issues of trust between A.I. and humans, as well as self-preservation and self-sacrifice, "Bishop" as he is singularly named is the quintessential android by which all other movie androids are measured. Who could forget the incredible "knife game" scene with Henriksen prodding a table with a sharp knife at lightning speed between a screaming Paxton's fingers?
Scarier than the xenomorphs (this is the film in which we find out what the critters are called), is all too human "Burke", played by Paul Reiser. Reiser did such an incredible job playing a slimy, sleazy, weaseling scumbag that I was never able to watch him in anything else without hating his guts. Sorry Paul, I'm sure you're a fine actor in other roles, but you nailed this one too well. His death scene is so incredibly satisfying.
The supporting cast is, in fact, just as impressive and important to the plot as the aliens themselves, especially "Newt", the little girl who has been trapped for weeks on the planet with hordes of xenomorphs having captured and killed her family. The spunky but likeable kid fits in naturally with the grownups, giving a performance beyond her years. The scene in which she is in the water with a xenomorph sneaking up on her has to be the most tense, heart-pounding scene in mainstream 80's cinema.
We learn more about the aliens and their behavior in this one, and we also learn about their ecology, including the indescribably awesome queen of the brood, the facehuggers, the alien guards, their habitat, and what they do with their victims. The final battle scene between Weaver and the alien queen is, without a doubt, among the most entertaining endings in any movie.
I can't say enough good things about "Aliens". James Cameron solidified his status as a genius, Sigourney Weaver was nominated for an Oscar, and it won all the special effects awards that year; and it's just one of those movies you never get tired of watching – perfectly paced, perfectly acted, perfect soundtrack, frightening creature and sound FX. I think I'm ready to go watch Alien: Covenant now.
How about you?
Comments or questions are welcome.