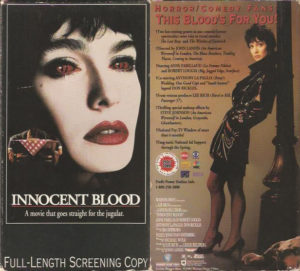 By S. Michael Simms
After a little hiatus to wrap up some loose ends, yours truly is back with the second entry in a three part series on underrated mob movies which you might have missed that you have just GOT to see. And if you still haven't watched "True Romance" yet, shame on you! I sit through all the dreck so you don't have to, so when I recommend a film, it ain't 'cause I haven't done my homework and it sure ain't for my health (he says between swigs of vino and drags on his cheap cigar). I'm tryin' to do you a favor! Get on it already!
Oh, "Innocent Blood"… where do I even begin? There is so much that is unique and special about this movie that it defies description. How about with the director? John Landis was so hugely successful in the late 70's/Early 80's with movies like "Animal House", "The Blues Brothers", and "American Werewolf in London" (not to mention all of Michael Jackson's videos including "Thriller") that by the early 90's, he could pretty much do whatever he wanted, which is exactly what he did here.
"Innocent Blood" is a genre bending masterpiece of quirk that combines 80's style comedy like "Trading Places" (another Landis classic) with horror, with Italian gangster movies, with noir, with romance and, if we're being honest here, softcore porn. "La Femme Nikita" French bombshell Anne Parillaud plays a gorgeous, heavily accented vamp who decides to go after mobsters for blood, literally.
The film opens with Jackie Wilson crooning the first of many incredible songs that are scattered throughout the movie, including several of Sinatra's finest classics. We are introduced to Parillaud's naked form and narration right off the bat, and before long she's draining henchman
Chazz Palminteri dry. But when she tries to do the same with mob boss Robert Loggia (who, along with his lawyer played by none other than the late Don Rickles totally steals the show), she is interrupted by goons before she can destroy his corpse, thus creating the truly bizarre but ultimately entertaining villain of the story.
Enter undercover cop Anthony LaPaglia whose cover is blown by a young Angela Bassett (the first of many incredible cameos and enough later stars to make Kevin Bacon blush at his own game), along with a who's who of Mafia character actors (Tony Sirico and David Proval have supporting parts as gangsters, foreshadowing their roles in "The Sopranos"). The ensuing noir-tinged black comedy is so engaging and chock full of memorable moments that you will want to watch it a half dozen times and still not get tired of it.
In case you forgot it's also a horror movie, there are also appearances by horror FX maestro Tom Savini and "Evil Dead" director Sam Raimi, not to mention enough scary and gory scenes to drive it home. They even manage to throw in Frank "Yoda/Miss Piggy" Oz for good measure.
The main sex scene with LaPaglia and Parillaud is probably the most intense, sexy moment in 90's cinema (with the possible exception of "Sex, Lies, and Videotape") and involves handcuffs… 'nuff said.
The only reason this movie flopped is because distributors and advertisers were still ticked at Landis for his part in the death of Vic Morrow on the set of "Twilight Zone the Movie" which is also why you've probably never watched it… but you're gonna watch it now, aren't you?
That's a good NewzBreaker reader. You can thank me after you're done having your mind blown… again. And as always, you're welcome!
Read Part I of III: Most Underrated Mob Movies: True Romance
Comments or questions are welcome.