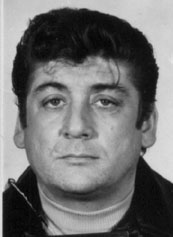 By Marla Eggar
Anyone whose heard of my second favorite gangster of all time, John Gotti, surely at some point has heard of Wilfred Johnson aka "Willie Boy" Johnson. He was born in Canarsie, Brooklyn, one of five children. His father was a Native American and his mother was Italian-American.
His family settled in Red Hook, Brooklyn where Wilfred Johnson was raised with his brothers and sisters. He was known on the streets as "Indian" or "half breed" in reference to his mixed Italian-Lenape heritage.
His father, John Johnson, was an abusive alcoholic who frequently beat his wife and children. Johnson's father often spent his entire paycheck on alcohol. In addition, Johnson's mother would periodically desert her husband and children but would always come back. Talk about dysfunctional!
Apparently, his criminal life began at the ripe old age of 9 when he was arrested for stealing money out of cash register.
Johnson had a volcanic temper that frequently got him into trouble. During a fight at the age of 12, Johnson was either pushed or fell off the school roof during a fight. Why the hell they were fighting on a school roof is beyond me but I digress. As a result, Johnson sustained head injuries that would plague him with persistent headaches for the rest of his life.
As a young man, Johnson was 6'6″ and weighed close to 300 pounds and had extremely large hands, my kinda guy! These physical traits led him to become an enforcer for the family.
In 1957, Johnson met John Gotti for the first time. Gotti was about 17 years-old. The two struck up a friendship and when Gotti joined the Gambino Family, he remembered Johnson. Needing a steady income, Johnson was given a modestly-successful gambling operation. Because Johnson was only half-Italian from the wrong side of the family, he could never become a "made" man. However, he brought in money as well as anyone else. In 1966, Johnson was imprisoned for armed robbery. His Caporegime, Carmine Fatico, vowed to financially support Johnson's wife and two infant children.
However, Fatico soon broke this promise. Johnson's wife, who remained loyal was forced to go on welfare. Johnson felt the mob was not living up to its obligations. After his release from prison, the FBI approached him about becoming an informant. Reluctant at first, Johnson finally agreed to talk in return for the government dropping some counterfeiting charges. Johnson also wanted to pay back the Gambino's for their dishonesty.
During his 16 years as an informant, Johnson provided information on all the different mob families that he worked with and the FBI used that information to make many arrests.
In 1985, Johnson's career as an informant came to an abrupt end. In a public hearing, Federal prosecutor, Diane Giacalone (in a failed attempt to convict John Gotti) revealed that Johnson was working for the FBI. Officers tried to convince him to enter the Witness Protection Program, but he refused. On August 29, 1988, Bonanno Family hit men, Thomas Pitera and Vincent Giattino ambushed Wilfred "Willie Boy" Johnson as he walked to his car and shot him to death. The gunmen fired 19 rounds at him. Johnson was hit once in each thigh, twice in the back, and at least six times in the head.
They even dropped jack-like spikes on the street to prevent the possibility of pursuit. Overall, I really do feel bad for "Willie Boy". Between his family life and life on the streets it's like he never had a fighting chance. His downfall ultimately came by violating the mobs' golden rule "always keep your mouth shut and never rat on your friends."
Comments or questions are welcome.