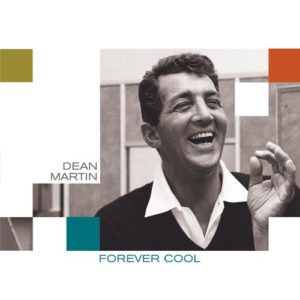 By Jerry Pearce
It was the year 2007, and my local sanctuary, Borders Books, was closing forever. Not only was the store closing, the entire adjoining mall was being torn down, and accordingly, the superstore was holding the precedent of an out of business sale. Walking through the gap-a-plenty music section, which looked much like a bomb hit it, I found myself, predictably, in front of the section with the "jazz/standards" heading, which was mainly untouched. With signs emblazoned on the walls and pillars around me with phrases like "75% off!" and "all stock must sell," I felt much like a kid in a candy store with a pocket full of quarters.
Thumbing down the shelf through the many titles, I came upon a Dean Martin record of which I had never seen before entitled "Forever Cool". A neat black and white picture of Dean clad in a v-neck sweater with open collar adorned the cover, set in some sharp dark cube art. Thinking the album to be the typical compilation, I flipped over the title and became quite surprised, seeing that each of the more then dozen odd titles each featuring a duet partner with the likes of Kevin Spacey, Joss Stone, Robbie Williams, as well as instrumentalists Chris Botti and Dave Koz. I knew this had to be some sort of special release considering Dean Martin had quit recording in studio long before some of these celebrities had established careers. For the bargain price of seven bucks, I drove home with the disc.
Indeed, it was a special kind of release. There have been many instances in which the vocals of an artist have been re-used in new recordings. To list them all here would span many different genres and styles of music, but the two that stand out to me, particularly in the standards genre, involve Martin's good friend, Francis Albert Sinatra. Cyndi Lauper had used Frank's 1950s vocals when an electronic duet was created featuring Lauper and a new orchestra when she recorded "Santa Claus Is Coming To Town" in 1992, and Celine Dion employed a similar method in 1998 when she blended Frank's 1964 vocals of the song "All The Way" with her own for a new duet of the Sammy Cahn-James Van Heusen classic.
But "Forever Cool" would mark perhaps the first time an entire album of these kind of electronically created duets would be produced, at least in the jazz-standards genre. We'll, ignore Sinatra's two "Duets" albums of the early 1990s, considering at the time, the artist was still well with us.
Created under the banner of Capitol Records, Martin's label for much of the 1950s before leaving for Sinatra's Reprise banner in the 1960s, the idea behind the album was to create the illusion that Martin IS actually still with us, playfully working on these songs with the current artists in the studio. To further exploit this illusion, snippets from session outtakes as well as soundbites from concert appearances are layered throughout the production to give us the impression that Martin is interacting with the singers.
Many cried foul at this project, but I admire it for what I think the producers were trying to convene in the album's idea: introducing and exposing the music of Dean Martin to newer generations using some clever gimmicks. While the average music listener might not pick up a new compilation of Dean Martin's greatest hits off the shelf, if they turn the title over and see a current-day artist like Martina McBride involved, they may be more compelled to investigate.
The release is unique considering not only are singing duet partners involved, but we also have the addition of music instrumentalists like Dave Koz, Chris Botti, and the group Big Bad Voodoo Daddy. The opening track, "Who's Got The Action?" is particularly exciting, featuring leader Scotty Morris contributing some faint harmony vocals to Dean's original, with a slam-bang new arrangement of the tune to boot, headed by an edited version of Dean Martin's live introduction (here he is..direct from the bar!) from the Sands. Session sounds are used to fill the gap between songs with the engineer announcing the code and take numbers, and even Kevin Spacey gets a little Dean Martin impression in before he and Dean launch (with new orchestra) into Martin's classic "Ain't That A Kick In The Head?"
While Martina McBride's delightful version of "Baby, It's Cold Outside" has gotten a lot of airplay (I hear it often overhead in supermarket sound systems during the Christmas season as well as on radio, the most delightful tracks on this release are reserved for the instrumentalists, particularly the opening track with Voodoo Daddy, "Just in Time" featuring Dave Koz, "Who Was That Lady?" featuring a new arrangement recorded by the Capitol Studios Orchestra, and a beautiful new arrangement of Dean singing "I've Grown Accustomed To Her Face" featuring some beautiful, romantic trumpet fills by the great Chris Botti.
Kevin Spacey has the honor of recording not one, but two songs on the album, the other being "King of The Road", and while he "asks" Dean in the beginning of the song if he can snap along with him, it is on this song that the audio shortcomings of pairing old and new material are most evident, with both Martin and Spacey sounding as if they have been brusquely juxtaposed together in order to create the tracks.
Other artists featured include American Idol's Paris Bennett, Shelby Lynne, Tiziano Ferro, and French superstar Charles Aznavour. Much like Sinatra's "Duets" albums of years before, reviewers and fans alike called the pairings poor and out of touch, one even quoting that most of the artists featured couldn't hold a candle to Martin. But when you think about how the Great American Songbook fades away a little bit more year by year as our musical climate rapidly changes, you have to admire the intention: keeping a tradition alive, even if by unusual means. That being said, pick up your copy. There are plenty available on Amazon for a discount.
Not the "classic" Dean Martin material, but well worth a listen! 3/5.
Until next time, music lovers!
Jerry Pearce is an amateur singer in the vein of Frank Sinatra, Perry Como, and Dick Haymes and has released two discs of standards music, Crossroads in 2010, and One Summer Night in 2016. Samples of his music can be heard on his YouTube Channel. To purchase his CDs use the form box below.
Comments or questions are welcome.