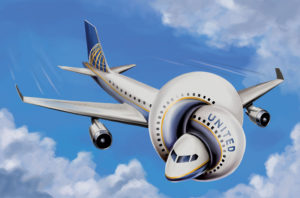 By S. Michael Simms
By now we've probably all seen the video of a passenger on United Airlines getting dragged away by airport security and coming away with a wounded, bloody face in the process. It was some ugly business to be sure, and as per usual there was certainly plenty of righteous indignation going around social media in the hours following as videos of the incident went viral, but it's not really anything new, is it?
Think about all the media coverage of guys in uniform having violent altercations with minorities since the Freddie Gray incident that happened almost two years ago to the date. After allegedly making eye contact with police before attempting to flee from them and subsequently being found in possession of a switchblade, the young black man was taken into custody, cuffed, and put in the back of a police van where he received neck and spinal injuries during transport to the station, which ultimately led to his death.
Pictures of Gray being arrested were widely and quickly circulated around social media where outrage at the apparent police brutality became a frenzy of police supporters vs. civil rights advocates. In 2015, the year of Gray's death, nearly two black men per week were killed by police. In the age of cell phone cameras, many of these deaths were captured on video and quickly released on social media for public scrutiny, where soon the lives of the individuals involved simply became talking points for virulent debate on both sides of the issue.
But be honest: When you first saw this latest news item about United Airlines allegedly mistreating its passengers, didn't some part of you roll your eyes and think, "Well, here we go again…"?
So the question is: Is all this moral outrage doing any good? Maybe even more harm than good? There is a current hypothesis which wagers that so much righteous indignation over a relatively short period of time has had the opposite effect intended by those who participate in it. In other words, you may have heard it said of late, "If people lose their minds over every little thing in the media that ticks them off, people will be burned out and desensitized to it when things occur that are actually worth being morally outraged about," or something along those lines.
Cops, medical emergency personnel, and even social service workers get what's known as burnout effect after dealing with one negative situation after another over time, eventually losing the ability to empathize with their clients and provide appropriate sensitivity in administering their care. Is this happening to people on Facebook, Twitter, and other social media platforms after they've been bombarded with a seemingly endless barrage of negativity and violence over the past two years? Only time will tell but it certainly seems plausible.
In the meantime, there is some evidence that the internet SJW ("social justice warrior" for those of you over 50) movement has had at least some positive effect. Thanks in part to the saturation of coverage on the violence controversies in 2015 and its effect on the public consciousness (including political implications), statistics show that the same kinds of deaths in 2016 were reduced by more than half.
So what do you think? Should everybody calm down and quit their bitchin', or is there perhaps more worth complaining about than some would have us believe?
Comments or questions are welcome.