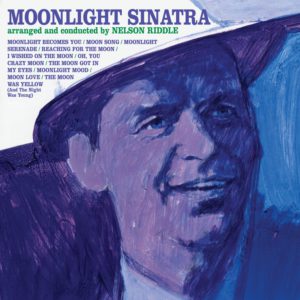 By Jerry Pearce
"That's the flattest note anybody ever hit!"– Sinatra, recording "Oh, You Crazy Moon"
Let's make a long story short: "Moonlight Sinatra" is a rarity of a Sinatra album, just not for the reasons that you might think. It's not that type of album that will fetch top dollar on an online auction site. In fact, it's barely been out of print since its release in the summer of 1966, still available to this day on both compact disc and digital download. It's rare for the facts the surround it, and for Frank Sinatra, who in the midst of the 1960s was experimenting the most with new arrangers and sounds at his label, Reprise, "Moonlight" was a throwback to the albums that preceded him during his time at Capitol Records in the 1950s, a returned to a time honored "concept" that he himself invented.
Sinatra had invented the idea of the concept album, a program of music centered around a certain theme or feeling, some twenty years prior when he recorded his first such collection of songs for "The Voice of Frank Sinatra" for Columbia Records in 1946, a method he exploited to full measure with the creation of many albums (first and most with arranger Nelson Riddle) throughout the 1950s at Capitol.
If you're not using the term loosely, "Moonlight Sinatra" was the first time at his Reprise Records that Sinatra firmly based the narrative of an album around a cemented concept or subject, in this case of course, "la bella luna" overhead.
For arranging duties, Sinatra called on his old friend and collaborator, Nelson Riddle, with whom he had recorded countless singles, not to mention eight full thematic albums while at Capitol Records. By the dawn of the 1960s, however, and the founding of Reprise, Sinatra sought out the services of Riddle less and less, instead choosing arrangers like Johnny Mandel, Don Costa, Sy Oliver, Neal Hefti, and Quincy Jones to craft the first releases for his new record company.
He did, however, call upon Nelson to arrange a dramatic group of ballads for symphonic orchestra, recorded with a group so large that Sinatra, Riddle and company vacated the usual recording studio to lay down the arrangements on the soundstage at Goldwyn Studios. Considered one of their finest collaborations, "The Concert Sinatra" was released in 1963. Two other albums together, "Sinatra's Sinatra" (twelve re-recordings of Frank's favorite hit songs) and "Academy Award Winners" (tied in with Sinatra's hosting stint for the 1963 Oscars, featuring recordings of Oscar winning songs) appeared in 1963 and 1964, respectively.
Ironically, "Moonlight Sinatra" would also serve as the next to last album project that Sinatra and Riddle ever worked on. Although the pair would work together again on the album "Strangers in the Night," they would not complete a full album again together after 1966, although Riddle would contribute arrangements for singles over the intervening years, and notably, the arrangements for a series of songs based around women's names in the late 1970s, an album Frank failed to finish recording. When Riddle passed away in 1985, both he and Sinatra had been in discussion to return to the studio together, and when his office was being cleaned out, arrangements for the forthcoming album were found spread across his sketching table.
Perhaps the main reason "Moonlight" could be considered rare is due to its varying appeal. Of course, die hard Sinatra aficionados are well acquainted with the album, but, sandwiched in with the well-received birthday statements of the double album "A Man And His Music" and "September of My Years" (a collaboration with Gordon Jenkins) on one end, along with the mega chart success of the "Strangers In The Night" album with Riddle on the other end, "Moonlight" is caught in its own little wonderland. Every performance is stellar, but there really is no landmark, definitive moment that a casual Sinatra fan can pull from its repertoire (i.e. "It Was A Very Good Year" on "September of My Years," "Summer Wind," from "Strangers In The Night," "Fly Me To The Moon" on "It Might As Well Be Swing," "Come Rain or Come Shine" from "Sinatra and Strings," and so on).
Recorded over two consecutive days (November 29th and 30th) in 1965, Sinatra laid down five songs each in the two sessions, his first time recording a full album since working on "September of My Years" in April past. Unedited session tapes reveal a relaxed but determined Sinatra, working through the arrangements at a brisk pace and not recording more than two full takes for each number.
Opening with the dramatic strings of "Moonlight Becomes You" (a song Sinatra first recorded in 1943), ballads are a mainstay for this album, but Riddle more than manages to showcase his ability in writing different styles, including the latinesque charting of "I Wished On The Moon" and the swirling brass and light swing of "Oh, You Crazy Moon." Many Sinatra aficionados agree that the deliberately dragging tempo of this tune is oddly appealing to the ears of listeners, a standout performance on the record for both Sinatra and Riddle alike with sweet blistering trumpet fills behind the Chairman's vocals throughout as well as on the bridge. Sinatra's tender readings of "Moonlight Serenade" as well as "Moonlight Mood" (nailed in one take) are also notable readings. "Moon Song," "Moon Love," "The Moon Got In My Eyes," "Reaching For The Moon," and "The Moon Was Yellow" (a new recording following an earlier arrangement recorded in 1958) round out this musical package.
Although he wouldn't return to the studio until the following May of 1966 to begin work on the "Strangers" album with Riddle, two months following the completion of "Moonlight," Sinatra was off to his desert base of operations, the Sands Hotel in Las Vegas, with Sonny Burke to record a number of shows with Count Basie and his orchestra, which would become the landmark LP release "Sinatra at the Sands."
"Moonlight" would be released in March 1966, the title, of course, a play on the title of Beethoven's "Moonlight Sonata." With the majority of his 1960s recordings dedicated to the "hep cat" swingin' image that Frank had crafted through his cavorting with his friends known as "The Rat Pack," the "Moonlight" album, in a way, serves as a return to the image of the romantic balladeer that Sinatra first built his career on in the 1940s.
While the record charted respectfully, it wasn't the type of hit Sinatra was looking for, and at this point in the 1960s, he was trying valiantly to remain commercially viable in the face of rapidly changing musical tastes. He would find that niche in the months to follow, of course, with "Strangers In The Night."
Go listen to Sinatra, Riddle and company drone through the easy tempo of "Oh, You Crazy Moon." You won't be sorry.
Until next time, Sinatra lovers!
Jerry Pearce is an amateur singer in the vein of Frank Sinatra, Perry Como, and Dick Haymes and has released two discs of standards music, Crossroads in 2010, and One Summer Night in 2016. Samples of his music can be heard on his YouTube Channel. To purchase his CDs use the form box below.
Comments or questions are welcome.