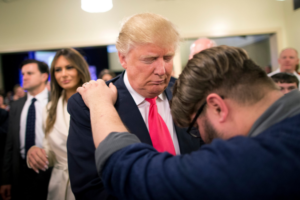 By S. Michael Simms
Regardless of whatever else you can say about the man's campaign, President Trump seems intent on following through on all the promises he made during it which got him elected, whether or not he has partial success such as with the so-called "Muslim ban" that turned out to be more of a "majority Muslim country travel hiccup" or a likely temporary but nonetheless crushing failure as in the case of last month's Obamacare repeal/replace gridlock. But one set of promises we haven't seen much movement on yet is his commitment to champion evangelical Christian issues by virtue of having claimed to actually be one back when it still looked like Ted Cruz might steal his thunder during the primaries.

Of course no self-respecting Bible Beltway Bocephus or Bobbi-Sue was fooled for one minute by Saint Donald's occasional awkward Bible quote from "One Corinthians" (a.k.a. "First Corinthians" to the faithful), and if they'd ever had any real doubts about his Christian convictions that didn't involve his three marriages or quasi-nudie pic circulating latest wife, surely his "locker room talk" and subsequent doubling down on lewd and disparaging comments towards women ("bleeding from wherever") sealed reality for most of them.
Yet despite this, he still managed to carry a staggering 81% of the evangelical vote, a demographic without which he could not possibly have won the election. And while a percentage of them undoubtedly found it easier to hold their noses and pull the lever for him after he added renegade evangelical Catholic Reaganite Mike Pence to the ticket, it's more likely that promises to defund Planned Parenthood and reverse Roe v. Wade were more central to his grip on the creationism crowd, as well as his clear favoritism towards Christianity evident in such policy issues as exemption from travel bans imposed on Muslim countries and a promise to destroy the Johnson Amendment, which Jesus would certainly not approve of since it mandates that churches preaching politics from the pulpit risk losing their tax exempt status (must remember this next time Fox News is playing on every TV set in the church-owned athletic facility workout room down the block).
But will their support remain unwavering? While it is true that the vast majority of evangelical Christians in the United States are far-right leaning conservative Republicans, there has already been an undercurrent of "faith-based voter remorse" as the reality of just how unrealistic a complete overhaul of the Affordable Care Act and even less likely reversal of Roe v. Wade (if he can't even get his ultraconservative justice nominated, how is he going to insure something on a much bigger scale like illegalizing all abortions?) starts to sink in.
Just as Obama voters eventually figured out that GITMO wasn't closing and that maybe they weren't going to be able to keep their current health care plan after all, it won't take long for Trump's whitest, Jesus-freakiest constituency to realize that they don't need him as much as the left needed Obama. After all, old white guys are a dime a dozen in Washington, and even though Trump ran as an outsider, it's clear that he's now surrounded himself with establishment Republicans and decided that maybe "the swamp" wasn't so much in need of draining as controlled flooding.
The big question is: Is there anything Trump can do or say or perhaps even fail to do that evangelical Christians will decide is just intolerable before the next election cycle? Have they "sold out" to him in the name of Jesus, or is there a real danger for Trump of crossing a line and biting the hand that fed his campaign? What do you think?
Comments or questions are welcome.