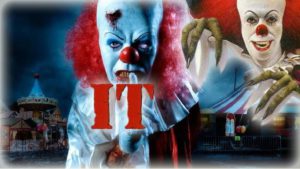 By Kristi O'Toole
Being a writer of the supernatural one may think I'm not too fazed by horror, but this new trailer release should be titled, 'S*it', because that's what I did in my pants. The blood-thirsty child-hungry Pennywise is back with a vengeance.
'IT' is easily one of Stephen King's most well known creations, appealing to young and old alike. In 1990 Tim Curry brought the evil sewer dweller to life in a big way during the television mini-series. Now, Bill Skarsgard is having a go at it, and from the looks of that trailer…he is not going to disappoint.
Do yourself a favor and make sure you watch with a friend, or at the very least the cat.
When Kristi isn't writing for NewzBreaker, she writes supernatural suspense novels having three currently published. If you would like to check out any of her books they can be found online and at other major retailers like Books a Million and Amazon. Never one to rest, she also paints/designs shoes and items for the home. Check out her eBay store, Watered Down Vodka and her FB page.
Comments or questions are welcome.