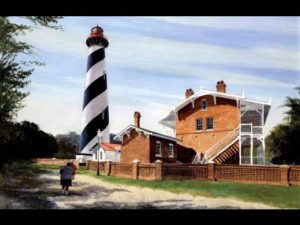 By Kristi O'Toole
Located on the N.E coast of Florida, St Augustine boasts being the oldest city in America. With that being said it stands to reason there would be plenty of haunting history under her belt. In my research, I've plucked a few unsettling tales out to share with you.
Founded on the site of an ancient Native Indian village, the Tolomato Cemetery hosted Catholic burials until 1884. If you want a vivid paranormal experience, this is a best bet. Known for the quantity of sightings, the Tolomato Cemetery seems to be filled with strange lights, shadows, temperature changes and apparitions. Little is understood about the connection between the grave sites here and the sightings, but many suspect that those buried here are making themselves known to the living.
Such is the case at the massive oak tree just inside the cemetery gates. It all started with children standing at the gates who began seeing a little boy playing around the tree. They would tell the adults about this little boy in old fashioned clothing who looked to be five or six years old, but no adult ever saw him until one day, when he was seen by everyone while sitting up in the ancient oak tree. There he was dangling his legs and smiling at the crowd. Everyone gasped as they suddenly realized… he was transparent…you could see right through him. But who was he? Where did he come from? Just 30 feet below the tree the answer would be found. There lay the grave of a child, a boy.
Another paranormal hot spot is, Castillo de San Marcos, or "The Old Fort" which was built in 1672, making it the only currently standing 17th-century fort in North America. It has seen many bloody battles, so it's no surprise that it's supposedly a hub for paranormal activity. Locals have reported several phenomena, including a watchtower light that turns on by itself, orbs floating about in the sky above the fort, strange sensations in the dungeon like goosebumps, cold winds, and physical sickness, and even sightings of a uniformed soldier.
Moving on, the lighthouse is arguably the most haunted place in the entire city. Many lives have been lost in and around it for various reasons, but one story breaks the hearts and chills the bones of all who hear about it. In the summer of 1873, when the lighthouse was being constructed, five children (presumably those of the workers) were riding around on a cart that was used to bring in supplies. They accidentally rode it into the water and drowned due to not knowing how to swim. Today, if you visit the lighthouse, you might see the children playing on their favorite swing set or looking out from the high windows of the tower.
The Casablanca Inn sounds so romantic, but During the early 20th-century, bootleggers used this location to bring alcohol on shore and spend the night in the inn with it in their possession. Law enforcement was cracking down heavily on these outlaws, so they had to become increasingly sneakier with their smuggling, which was a difficult task indeed. The old woman who owned the inn was going through financial hardship, so she decided to aid the bootleggers to make more money. She notified them when it wasn't safe to come on shore by waving a lantern in an upstairs window. Locals say that if you walk past the inn at night, you'll see the very same lantern shining as bright as can be, only now, there's nobody holding it. I guess poop in your britches isn't too romantic though.
Hospitals typically aren't cherry places to begin with, but couple that with a burial ground and viola! You have the Spanish Military Hospital. The hospital was built in the late 18th-century and reconstructed about 50 years later. When workers knocked down the walls, nothing could've prepared them for what they found; piles of bones arranged in ritualistic patterns indicative of the ancient Timucuan Indian tribe. This finding, combined with all the war torn, troubled souls who passed away in the hospital, provide a perfect explanation for what the staff members called an "evil" and "frightening" presence watching over them all day long.
And last but not least, the old jail. The "Old Jail" was home to thousands of prisoners during its 60 years of operation. The living conditions were some of the worst imaginable. The inmates were not allowed baths, their beds were constructed from Spanish moss (which often got infested with bugs), and there was no air conditioning or heat, making summers and winters practically unbearable. Many lost their lives here due to sickness and execution. The prison is open to the public for tours, so if you're brave enough, you can experience firsthand what many tourists have reported: a sweet smell, resembling that of molasses, hanging in the air, barking dogs believed to be the spectral hounds of a sheriff who used to guard the cells, the eerie sound of tunes being hummed and footsteps followed by the distinct clinking and dragging of chains on the ground.
When in middle school we took a trip to St Augustine and I had the pleasure of seeing many of these places in person. I remember in particular the old jail as it had such an oppressive feel to it. Still practically a paranormal virgin, I wasn't aware of the significance of orbs. Looking back on old photographs of the jail, turns out I was far from alone in the darkness.
Many photos are of nothing but various light anomalies.
When Kristi isn't writing for NewzBreaker, she writes supernatural suspense novels having three currently published. If you would like to check out any of her books they can be found online and at other major retailers like Books a Million and Amazon. Never one to rest, she also paints/designs shoes and items for the home. Check out her eBay store, Watered Down Vodka and her FB page.
Comments or questions are welcome.