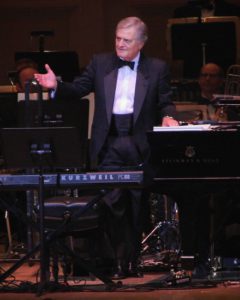 By Jerry Pearce
Sad news to report out of California this evening with the untimely passing of an individual who was a true legend in American popular music, the talented Vincent Falcone.
An ace pianist, accompanist, and musical director, Vincent was perhaps best known for his extended association as sideman and conductor for Frank Sinatra, a relationship he shared with the singer from 1976 to 1982 and again from 1984 to 1985. With the exception of perhaps longtime pianist Bill Miller, and later his son, the late Frank Sinatra JR., Sinatra shared the closest working partnership with Falcone.
Born in Syracuse, New York, Falcone's talents led him to Las Vegas and a job as the house pianist and musical director for Caesars' Palace Hotel and Casino, where the Chairman of the Board discovered him in the late 70s and enticed him to join the Sinatra camp.
Falcone would later write a book about his experiences during this time, published in 2004 as "Frankly Just Between Us," detailing his exploits with Sinatra as well as a bevy of other entertainers that he accompanied over the years, including Paul Anka, Tony Bennett, Robert Goulet, Pia Zadora, Steve Lawrence and Eydie Gorme, Jerry Vale, and Eddie Fisher. Survived by his wife and children, Falcone was 79.
Newzbreaker extends our condolences to the Falcone family in their time of grief.
Jerry Pearce is an amateur singer in the vein of Frank Sinatra, Perry Como, and Dick Haymes and has released two discs of standards music, Crossroads in 2010, and One Summer Night in 2016. Samples of his music can be heard on his YouTube Channel. To purchase his CDs use the form box below.
Comments or questions are welcome.