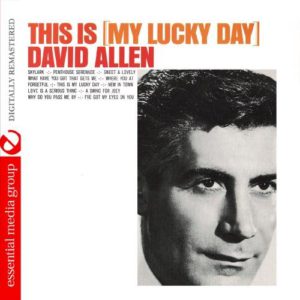 By Jerry Pearce
In the 1940s, while New Jersey native Frank Sinatra was making his bones as a viable singer with the orchestras of Harry James and Tommy Dorsey, dance audiences attending concerts by the orchestra of fellow bandleader Jack Teagarden were being serenaded by the vibrant vocals of another young vocalist new on the scene, singer David Allyn (Allen), who, after a relatively short time of entertaining, dutifully hung up his microphone when he was drafted into the United States Army to serve in the Second World War.
After his stint in the military, Allyn joined with the Boyd Raeburn Orchestra and performed as their featured singer until the ensemble disbanded; he would then drift around, scoring record dates and singles across a selection of record labels until Discovery Records decided to take a chance on him in 1949 with the recording of four songs under the direction of arranger Johnny Richards. The record would receive good notices and fair airplay, when things took a bad turn for the singer.
Pain sustained from injuries during his tour of service led to a crippling prescription drug habit, which, with the influence of fellow band members following his return home, progressed into a deadly addiction to heroin. Convicted of prescription fraud in the early to mid 1950s, Allyn spent a considerable period of time in New York prison for the crime, where he was able to successfully kick his drug habit and rebound from addiction.
Upon his release in 1957, Richard Bock, an old friend and current owner of Pacific Jazz Records, wanted to help his music pal and arranged for Allyn to record a new album for his subsidiary label World Pacific Records. The album, "Sure Thing: David Allen Sings Jerome Kern," was a surprising hit, with arrangements by veteran arranger and former Raeburn band mate Johnny Mandel. This led to two additional albums, one with Bill Holman released on World Pacific in 1958, "Let's Face The Music and Dance!" as well as an album at Warner Brothers Records with David Terry in 1959, "I Only Have Eyes For You."
Although his release from prison signaled a comeback of sorts, with appearance at nightclubs across the country not to mention prominent exposure on the Today Show, the Steve Allen Show, a Lenny Bruce special, and the Playboy Penthouse television program, Allyn would go without an album date or a recording contract of any type as the 1950s pushed forward into the 1960s. That is, until one day when actor Tony Curtis came calling.
Put into contact with each other through mutual friends, Allyn met Curtis at his office on the United Artists studio lot. Exchanging pleasantries, Curtis revealed himself and wife Janet Leigh as fans of the singer, and had a considerable proposition for him. Curtis had just purchased the rights to "The Hugh Hefner Story," a biopic about the founder of Playboy magazine. With a foundation already firm due to his appearance on "Playboy Penthouse" not to mention the string of Playboy Clubs across the country, Allyn was asked to record the soundtrack for the film, a jazz and standards oriented collection in the mold of the vocalist. The producer would be Sonny Burke, who was a few years away from beginning a longtime collaboration with Allyn's former boy singer rival (and now friend) Frank Sinatra. Notices for the forthcoming film and soundtrack were announced in Variety as well as all the music trade papers, but as time pressed forward, the project found itself in the throes of development hell.
After a considerable amount of time and money was invested, the project was unceremoniously canned, but Allyn, sensing there was a chance to do something unique, was able to get Curtis to back him on the production of a standalone album.
Working with the auspices of a record label absent, Allyn chose Bob Florence to work the arrangements in place of a previously-engaged Johnny Mandel. Putting together a musical program of twelve songs, Florence turned out some exemplary orchestrations, the track list varying in tempo as well as size of orchestra. There were songs with a small quintet, selections with the full big band, as well as beautiful strings added to the ballads.
Allyn rides the orchestra with delightful swingin' big band tunes, including "Love Is A Serious Thing," "I've Got My Eyes On You," the title tune "This Is My Lucky Day," as well as "Where You At?" a tune Allyn first performed during his big band days, here reworked magically with soaring brass, wild rhythm and some nice fills from saxophone. (Curtis would try to option the song for his upcoming film "Forty Pounds of Trouble," but upon being unable to secure the rights for a decent price, had a similar song, "What's The Scene?" written for the film. Allyn performs the song on the soundtrack, and is also featured briefly in the film.)
Two performances, "Sweet and Lovely," and "What Have You Got That Gets Me," utilize the smaller quintet and, with some nice vibraphone work, take on the atmosphere of one of Allyn's club dates. The ballads are a high point on this recording, with Allyn's tender readings of the songs "Forgetful" (another holdover from his big band days) and Hoagy Carmichael's "Skylark" counted as some of the nicest vocals the singer ever laid down in his career. "A Swing For Joey" is an Allyn original, a song inspired by a scene Allyn witnessed some years prior of Johnny Richards' son Joey with his new toy swing, and another consummate performance.
After completing the recording sessions at United-Western in Hollywood, Curtis and Allyn shopped the record to various distributors and finally found a willing partner in Everest Records, a New York based label founded some six years prior, one mainly devoted to classical and later jazz. The album failed to garner much notice.
Much of the information in this article was gleaned from David Allyn's autobiography, and though he admits the album wasn't the success he hoped for, he was always thankful for Tony Curtis' help in trying to revitalize his career. Allyn would go on to become a counselor in Narcotics Anonymous, using his skills as a former drug user to help and counsel current addicts as they began their reformation process, before returning to his singing career, recording three more albums (including one in Spain) and making many nightclub appearances between the 1980s and the mid-2000s. He passed away from natural causes in 2012, leaving a legacy of eight wonderful albums.
This particular album in question, "This Is My Lucky Day," fortunately survived the typical fate of going out of print, with a few reissues, first by Allyn's own "Retrieval" label in the 1990s, and again by Essential Media Group on both compact disc and digital download in the 2000s. When you listen to the album and consider the history behind it, with a popular actor rolling the dice on a truly talented singer, you'll agree that it was indeed, David Allyn's "lucky day." 5/5.
Until next time, music lovers!
Jerry Pearce is an amateur singer in the vein of Frank Sinatra, Perry Como, and Dick Haymes and has released two discs of standards music, Crossroads in 2010, and One Summer Night in 2016. Samples of his music can be heard on his YouTube Channel. To purchase his CDs use the form box below.
Comments or questions are welcome.