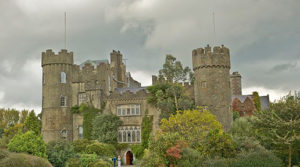 By Kristi O'Toole
In my series of columns on haunted Ireland I have left the best for last. Malahide Castle is located in Malahide, Dublin County, Ireland. The castle is a very old and very proud one. It was built in 1185 by King Henry II of England, for his friend Sir Richard Talbot. Talbot was a knight who had been helpful to the king during his travels and was given the Malahide Area in gratitude. At one point, the Talbot family was one of the most powerful families in Ireland, to the extent that King Edward the Fourth felt obliged to expand their castle massively by adding towers and doubling the size of the garden.
The castle remained in the Talbot Family until 1979, when they had to sell it to the council in order to pay inheritance tax.
Malahide is one of the oldest castles in Ireland and is also the most haunted, having a grand total of at least five ghosts residing within its four walls.
The first spirit said to reside at Malahide is one of Miles Corbet. Corbet was English Politician, a 'Roundhead' and sworn enemy of the Irish. He was very anti-Catholic and believed strongly in a British Republic. During his time Corbet was well known for not getting along with the local population, who were mostly Catholic. He (being against Catholicism altogether),tried to outlaw it in Malahide and went as far as to attack the local Abbey.
In 1660 when Oliver Cromwell was overthrown and executed, the monarchy was reinstated and King Charles II was put into power. King Charles decided that he would execute all of the 59 members of parliament who had signed Charles I death warrant. Corbet was of course one of them. The moment he heard of this he fled to the Netherlands. During his time, there the Talbot's simply moved back into their castle. King Charles II however, caught Corbet two years later in 1662 and took him back to Malahide, where he was executed. He was hanged, drawn and then Quartered as an example as to what happened to people who enjoyed the death of a king.
It goes without saying Corbet would be an angry and very restless spirit, and what better way to remain hateful and vindictive than to haunt a Catholic home. As well as running throughout the castle regularly, every anniversary of his death he gets more obnoxious making sure no one sleeps at night. His ghost has also appeared in a full suit of armor and It is also said that the ghost has a habit of falling apart into quarters, reminiscent of his execution.
The second ghost said to haunt Malahide is Walter Hussey, also known as the Young Lord Galtrim since he was the son of the Lord of Galtrim. Hussey had been sent to Malahide to fight 'Roundheads'. During his time, there he fell in love with a woman, and eventually he decided he was going to marry her. Soon after he gave up the fight so to speak as fellow warriors moved on and Hussey stayed behind in order to stay close to his bride to be.
On the Morning of the wedding, Hussey was not preparing for battle but for his wedding instead, This was unlucky as he was ambushed by his rival as he traveled to Malahide Castle where he was to be married. The rival was a 'Roundhead' with a personal grudge. Shocked, Hussey Drew his sword but it was too late. The 'Roundhead' threw his spear at Hussey, killing him instantly. After the death of Hussey, his blushing bride actually fell in love with his murderer, and soon married him instead.
It kind of goes without saying why this gentleman's spirit is restless and maybe a little pissy. The ghost of Walter Hussey will wander throughout the castle, sometimes showing his wound from the spear. It is believed by many that he is trying to tell people why he did not show up for the wedding.
The third residential specter belongs to Lord Chief Justice (presumed to be his actual name). He was a landowner and the third and last husband of Maud Plunkett. His ghost is closely connected to the ghost of Plunkett and is usually seen being chased throughout the castle by the ghost of his wife. However, Justice does have some of his own haunting behavior. Because Chief Justice was an avid body builder, and spent a lot of time fighting with his wife, he spent any spare time he had exercising. And so, in various parts of the castle, his ghost can be seen exercising, often going for a jog or weightlifting.
Coming in at number four is the aforementioned Maud Plunkett. Maud Plunkett, was, as mentioned before the wife of Chief Justice. She lived in the castle for a short time along with the Talbots. When Maud married Chief, it was her third wedding. Chief Justice was unaware of Plunkett's rather petty behavior which had caused her last two husbands to leave her. As a result she became very possessive of Chief Justice. Some say that she may have beaten her third husband. Even if she didn't, she certainly spent a lot of time arguing with him; usually over petty reasons. Plunkett was apparently very violent during these fights, to the extent that Chief Justice often ran away when the arguing escalated causing Plunkett to chase after him. The fights apparently got so bad that it is possible that the Talbots kicked them out of the castle.
Plunkett's ghost is always accompanied by the ghost of Chief Justice, or at least someone. She is seen 'chasing her husband' around the castle.
Last but certainly not least is a chap that goes by Puck. Puck was actually the Talbot's jester and a dwarf that stood less than four feet tall. I don't know about you but I'm already terrified. During the reign of Henry VIII there was a woman named Lady Elenora Fitzgerald that the king had become suspicious of, so her sent her away and Puck was assigned to watch over her. Unfortunately for Puck, he fell in love with Lady Fitzgerald. The Talbots were worried that news of this would get back to King Henry and be seen as a threat, and he would declare war on them.
As a result, on a very snowy December morning, Puck was found stabbed just outside the castle walls. It is believed that he was killed by a member of the Talbot family. Subsequently they then started to say that Puck had killed himself. Although this is possible. it is not often believed.
It was rumored that before his death Puck was quoted as saying, his ghost would haunt the castle without hurting anyone so long as there was a male Talbot that lived there. Sure enough, Pucks ghost now haunts the castle and is most unpredictable regarding what he'll do. He was seen during the selling of the castle in 1979, although he has rarely been seen to manifest since. He often appears in photographs but despite his promise, Puck has yet hurt anyone.
Far be from me to find out if Puck, or any of the resident ghosts would hurt anyone. I'll leave the paranormal investigations to the experts and stay tucked safely away in my home away from ghosts. Dwarf ghosts. Dwarf ghost jesters.
When Kristi isn't writing for NewzBreaker, she writes supernatural suspense novels having three currently published. If you would like to check out any of her books they can be found online and at other major retailers like Books a Million and Amazon. Never one to rest, she also paints/designs shoes and items for the home. Check out her eBay store, Watered Down Vodka and her FB page.
Comments or questions are welcome.