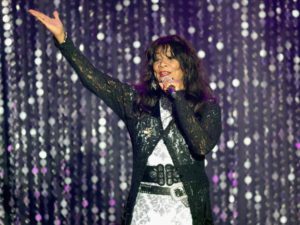 By Kristi O'Toole
Singer Joni Sledge, founding member of the 70's musical group Sister Sledge has passed away. According to a statement released by the group's reps, Sledge was found unresponsive at her home in Phoenix, Arizona on March 10, and was later pronounced dead.
Joni, along with her sisters Debbie, Kim and Kathy, joined forces in 1971 to form Sister Sledge. In addition to amassing a string of gold and platinum plaques, Sister Sledge is perhaps best known for their 1979 the hit, "We Are Family".
NewzBreaker extends our condolences to the Sledge Family in their time of grief.
When Kristi isn't writing for NewzBreaker, she writes supernatural suspense novels having three currently published. If you would like to check out any of her books they can be found online and at other major retailers like Books a Million and Amazon. Never one to rest, she also paints/designs shoes and items for the home. Check out her eBay store, Watered Down Vodka and her FB page.
Comments or questions are welcome.