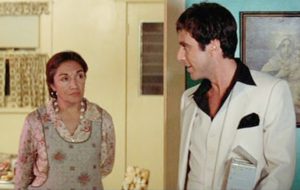 By "Bad" Brad Berkwitt
Miram Colon a long-time actress in film and TV died this past Friday and it was confirmed by her husband, Fred Valle who told The Associated Press that Colon died in a New York hospital because of complications from a pulmonary infection. She was 80.
Colon acted in many movies and on TV, but her role as Al Pacino's mother in Scarface was her most famous and talked about.
NewzBreaker extends our condolences to the Colon Family in their time of grief.