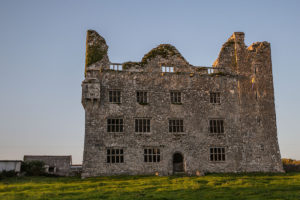 By Kristi O'Toole
Leamaneh Castle in Co. Clare Ireland is said to be one of the most haunted places on the island. Reported to be occupying the premises is a woman known as Red Mary. A person may say to themselves, 'Only one ghost?'
Perhaps there is only one, but please don't make the mistake of underestimating Mary and her notoriously bloody past.
Red Mary was aptly named, and not just for her flaming red hair but also her foul temper, which was legendary. It is said that if a servant were foolish enough to displease her, they would be hung out of one of the castle windows, the men by their necks and the women by their hair. If the maids did not learn to bend to her will, she would punish them by cutting off their breasts.
Another story tells that she kept a stallion in her stables and would challenge visitors to ride it. Once the beast was released from its bridle, it would run wild galloping towards the Cliffs of Moher, where it would suddenly stop, hurling its poor victims over the cliff to their death. The word Leamaneh even translates as 'horse's leap.'
No one was safe with Mary, including her husband. The fiery haired woman would often ride with her husband at the head of his troops, but on one particular skirmish where things went horribly wrong, Mary's husband, Conor was shot, however not fatally. Deciding she didn't really want to be bothered by the injured man, Mary made her way back home where she had the gates closed when her husband finally made it home. It is recorded she shouted out, "What do I want with dead men here?"
After the death of her husband it is said that Mary may have gone a little nutty and went on to marry 25 other men. Each marriage lasted just a year and a day. After this time, each of them could divorce the other. Some stories say that she merely put each unwanted husband into a house with a servant and banned them from entering the marital property, whilst other tales tell that Red Mary simply killed each man once he had outlived his usefulness.
With so many ongoing feuds, it's no wonder that Red Mary reputedly came to a very bad end. After the death of her last husband, it is alleged that she was captured by a group of her enemies and taken to a hollow tree where she was fastened up and left to die of starvation. It is not clear exactly where she was buried, but her red-haired ghost is said to appear in two different places. One of these is a Druid's Altar near Clare Castle, whilst others say she walks the halls of Leamaneh Castle, giving it the reputation as being one of the most haunted Irish castles.
When Kristi isn't writing for NewzBreaker, she writes supernatural suspense novels having three currently published. If you would like to check out any of her books they can be found online and at other major retailers like Books a Million and Amazon. Never one to rest, she also paints/designs shoes and items for the home. Check out her eBay store, Watered Down Vodka and her FB page.
Comments or questions are welcome.