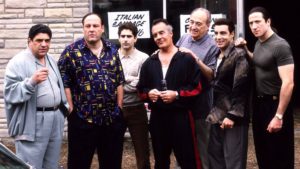 By Marla Eggar
The influence of the mob has captivated our attenion since the early 1900s. The imprint they've placed on society can be seen on everything from the movies to sports. Even the music scene can't get enough of both real life and fictional mob characters. Artists like Yo Gotti, Scarface and Capone all pay homage to real life gangsters who represent their aspirations for Money, Power and Respect. Until recently, I thought the world of hip hop/rap belong solely to the brothers. Sbagliato! Over the years, I've discovered and enjoyed a new genre of music that's unique within itself. Wait for it…Wait for it – Italian hip- hop. Now before you cynics go off into your "f" that mulinyan music tirade, let me explain. First of all, Italians got rhyme too (I can personally vouch for the men) and their talent isn't just limited to Frank Sinatra and Lorenzo Ferrero.
You see, in the early 1980s hip hop spread throughout the world finally making it's way to Italy through posse cut. Eventually, Italy's first Italian rap star emerged, Jovanotti. He was discovered by producer, Claudio Cecchetto. Jovanotti quickly rose to fame by creating an underground street video called "Let's get Dizzy." Now aren't you glad you let me explain? Did you know any of that beforehand? I'm just playing.
I just threw that in there because I saw a picture of the guy and thought he was cute… Anyway, back in America New York was gearing up for its own breed of Italian lyricists. Local artists like Tone Fazoolz, The Shark, Vinnie Paz and my own personal favorite JoJo Pellegrino were developing their own unique style by becoming rhythmic forces on the streets. Unlike other white rappers, these artists didn't forgo their heritage to identify with a particular culture. Instead, they embraced their identity.
They shared their stories with the world! This was achieved through their sound. Their lyrics allowed you into that secret "Italians Only" organization. Outsiders have always been intrigued by the lifestyle, the money, the power and the close bond otherwise why would we flock to buy their music, stand in line for movie premieres and glued to the TV for the Sopranos? A heritage that has been immortalized in movies for decades! Let's take a look inside the world of JoJo Pellegrino.
He was raised on Staten Island but found local radio success with his first two tracks "Forgedaboudid" and "Where I'm from". His lyrics were aimed at the rap world yet embraced the mob lifestyle in a manner making it relevant to street guys both black and white. Once signed to Violator Records, Pellegrino now produces music under Pella Vision. He continues to work and collaborate with various artists. Most recently he has been producing a track with Mob Wives Star, Drita D'Avanzo, for fallen cast mate Big Ang. who in February of last year. lost her battle to cancer.
In conclusion, it's traditional perceived that where the mob is connected, no good can come. However, in this instance the mob has played the "Devil's Advocate" by managing to bridge a culture that may not have been possible under other circumstances!
Comments or questions are welcome.