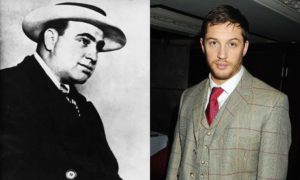 By Joe Liddle
This time around I thought I'd talk about some upcoming movies in the mob genre. I spoke about The Life and Death of John Gotti in my last article, starring John Travolta, and I realize that there has been a surge of movies in this particular category. One that comes to mind is the recently released Live by Night, a Prohibition era flick directed by and also starring Ben Affleck as the lead role. From what I've seen, the movie itself has some very mixed reviews, averaging a 34% on Rotten Tomatoes and a 6.5 on IMDb, a huge drop compared to some of Affleck's other directorial works, including The Town and Argo, both of which did very well.
So, without further ado, let's take a look at what's in store for the future of mob cinema. First, I'll start with Martin Scorsese's upcoming movie, The Irishman, set for theatrical release in 2018 and starring some of the biggest names in Hollywood. For the first time, we'll see Al Pacino, Robert De Niro and Joe Pesci acting alongside one another, something that has never been done before. The movie will focus on the life of Frank "The Irishman" Sheeran and his supposed involvement in the mysterious Jimmy Hoffa case. Robert De Niro will be playing Frank Sheeran, who will be telling the story from his perspective. Al Pacino will be playing Jimmy Hoffa, and Joe Pesci will be playing Russell Bufalino, boss of the Bufalino crime family.
Other cast members include the legendary Harvey Keitel, who will be playing Angelo Bruno, boss of the Philadelphia crime family, and Bobby Cannavale, who will be playing the formidable Joseph "Crazy Joe" Gallo. Without a doubt, The Irishman has an extremely appealing cast and as far as upcoming movies go, it is most definitely at the top of my list. The movie itself is said to be an adaption of I Heard You Paint Houses, written by Charles Brandt, and will serve as the movie's main inspiration, much like Nicholas Pileggi's Wiseguy did with Goodfellas.
Another exciting mention, according to several news sources, is an untitled movie starring Tom Hardy, focusing on the final days of Al Capone, his struggle with dementia and the violent memories of his former life. It will be directed by Josh Tank, best known for the 2015 movie, Fantastic Four, which undoubtedly did extremely poor among fans and critics.
Tom Hardy has been scooped for the role of Al Capone before, in 2011, when he signed up to play the notorious mobster in what was supposed to be a series of films, the first being directed by David Yates. Unfortunately, the movie never passed the development stage and was scrapped by Warner Bros.
Another movie in the pipeline I'd like to talk about is Scarpa, directed by Brad Furman, known for The Lincoln Lawyer and The Infiltrator. Not much is known about this film as it's currently in early production, but what we do know is that Sylvester Stallone has been cast for the role of Colombo crime family enforcer, Gregory Scarpa, and that the film will chronicle his life as "The Grim Reaper" of the Mafia. Nicholas Pileggi, known for his work on Goodfellas, has been chosen to write the epic.
If you're familiar with Greg Scarpa, you'll know that he was a veteran hitman for the Colombo crime family under Carmine Persico and according to the FBI, is believed to have killed over 100 people. In 1962, Scarpa was arrested for armed robbery, and to avoid prosecution, agreed to work undercover for the FBI as an informant. His story is one of extreme violence and bloodshed, an interesting slice of history in the world of organized crime, and I for one will be looking forward to the movie.
So, there you have it. A short guide to what to look out for in the near future. I may not have mentioned everything, but regardless, new mob movies are being pushed into development and an exciting era for crime movies is on its way.
Comments or questions are welcome.