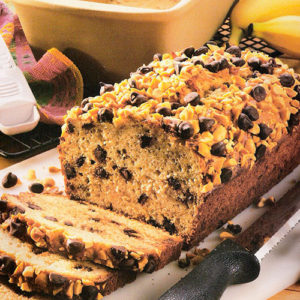 By Kristi O'Toole
Ingredients:
• 2 cups (500 mL) all-purpose flour
• 1 cup (250 mL) sugar
• 1 tbsp (15 mL) baking powder
• 1/2 tsp (2 mL) salt
• 1 cup (250 mL) mashed ripe bananas (about 2 medium)
• 1/3 cup (75 mL) milk
• 1/3 cup (75 mL) peanut butter
• 3 tbsp (45 mL) vegetable oil
• 1 egg
• 3/4 cup (175 mL) milk chocolate morsels
• 1/3 cup (75 mL) peanuts, coarsely chopped
Directions:
1. Preheat oven to 350°F (180°C). Spray bottom of Loaf Pan with nonstick cooking spray. In large mixing bowl, combine flour, sugar, baking powder and salt. Add bananas, milk, peanut butter, oil and egg; mix just until dry ingredients are moistened. Stir in chocolate morsels. Spoon batter into pan; sprinkle with peanuts.
2. Bake 60-70 minutes or until wooden pick inserted in center comes out clean. Remove from oven; cool in pan 10 minutes. Remove bread from pan to cooling rack; cool completely.
Kristi stays busy with her writing, shoe designing and Pampered Chef business so she knows how precious time can be; she also knows how important eating healthy and showing your children life beyond fast food can be. The Pampered Chefs Happy Families segment is designed with busy lives in mind. The recipes presented will be fast, easy and affordable to everyone. The tools you need to complete these meals can be found on her personal website.
Comments or questions are welcome.