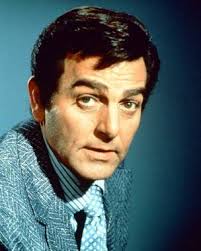 By Kristi O'Toole
Mike Connors, who starred as a hard-hitting private eye on the long-running television series "Mannix," has died. He was 91.
The actor died surrounded by family Thursday afternoon at a Los Angeles hospital from complications of leukemia that had been diagnosed a week earlier, said his son-in-law, Mike Condon.
"Mannix" ran for eight years on CBS beginning in 1967. Viewers were intrigued by the tall, smartly dressed, well-spoken detective who could mix it up with the burliest of thugs and leap on the hood of a racing car to prevent an escape. Episodes normally climaxed with a brawl that left the culprits bruised and beaten.
Connors and his wife, Mary Lou, were married in 1949 and had two children: a son, Matthew, and a daughter, Dana. Their son, beset by hallucinations starting in his teens, was diagnosed with schizophrenia and before his death lived in a small residential care facility. Connors and his wife championed efforts to erase the stigma of mental illness.
In addition to his wife, daughter and son-in-law, Connors is survived by a granddaughter, Cooper Wills.
NewzBreaker extends our condolences to the Connors Family in their time of grief.
When Kristi isn't writing for NewzBreaker, she writes supernatural suspense novels having three currently published. If you would like to check out any of her books they can be found online and at other major retailers like Books a Million and Amazon. Never one to rest, she also paints/designs shoes and items for the home. Check out her eBay store, Watered Down Vodka and her FB page.
Comments or questions are welcome.