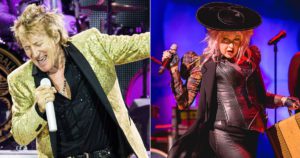 By Kristi O'Toole
Rod Stewart and Cyndi Lauper announced plans for a joint American tour on Monday. Their summer jaunt starts in Hollywood, Florida on July 6th and wraps up a little more than a month later in Houston, Texas. The stars plan to reveal more details about their shows during interviews this week.
Both singers are still recording. Stewart wrote or co-wrote nearly every song on Another Country, which he released in 2015, while Lauper put out Detour, which she recorded in Nashville with contributions from Willie Nelson and Alison Krauss, last year. Stewart and Lauper will, of course, also draw from their respective large catalogs of classic hits during their live sets.
When Kristi isn't writing for NewzBreaker, she writes supernatural suspense novels having three currently published. If you would like to check out any of her books they can be found online and at other major retailers like Books a Million and Amazon. Never one to rest, she also paints/designs shoes and items for the home. Check out her eBay store, Watered Down Vodka and her FB page.
Comments or questions are welcome.