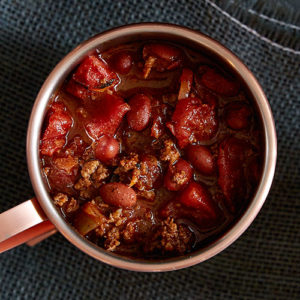 By Kristi O'Toole
Ingredients:
• 1 tbsp (15 mL) canola oil
• 2 medium onions
• 3 lbs. (1.4 kg) 90% lean ground beef
• 6 garlic cloves
• ⅓ cup (75 mL) chili powder
• 3 tbsp (45 mL) unsweetened cocoa powder
• 1½ tbsp (22 mL) cumin
• 1½ tsp (7 mL) salt
• 1 can (6 oz/170 g) tomato paste
• 3 cups (750 mL) low-sodium beef broth
• 3 cans (14.5 oz/411 g each) fire-roasted tomatoes, undrained
• 3 cans (16 oz/454 g each) chili beans in sauce, undrained
• Sliced green onion, sour cream, shredded cheddar cheese, jalapeño slices (optional)
Directions:
1. Heat the oil in the Rockrok® Dutch Oven XL over medium heat for 3–5 minutes or until shimmering.
2. Meanwhile, cut the onion into chunks. Process the onion in batches in the Manual Food Processor until finely chopped.
3. Add the onions to the pot. Cook and stir, uncovered, for 2–3 minutes or until the onions are slightly softened.
4. Add the ground beef and pressed garlic. Cook over high heat for 8–10 minutes, using the Mix 'N Chop to break the beef into crumbles. When the beef is no longer pink, drain (if necessary).
5. Stir in the remaining chili ingredients. Cover and bring to a boil over high heat. Reduce the heat to low and simmer for 15 minutes, stirring occasionally.
6. Serve topped with green onion, sour cream, cheddar cheese, or jalapeño slices, if desired.
Kristi stays busy with her writing, shoe designing and Pampered Chef business so she knows how precious time can be; she also knows how important eating healthy and showing your children life beyond fast food can be. The Pampered Chefs Happy Families segment is designed with busy lives in mind. The recipes presented will be fast, easy and affordable to everyone. The tools you need to complete these meals can be found on her personal website.
Comments or questions are welcome.