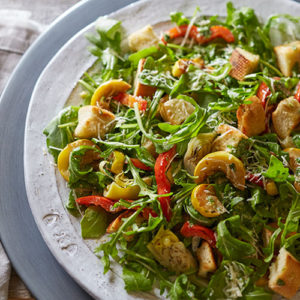 By Kristi O'Toole
Panzanella is a hearty Tuscan bread salad that is popular in the summer. For a more substantial meal, add diced cooked chicken or Italian deli meats.
Ingredients:
Salad
• 1 large red bell pepper, stem removed, seeded and quartered
• 1 large yellow squash, ends trimmed, cut into 3″ (7.5-cm) pieces and cut in half
• 4 cups (1 L) Italian bread cubes (about 1/2 of a 1-lb/450 g loaf, cut into 1/2″/1 cm cubes)
• 1 jar (7.5 oz/212 g) quartered marinated artichoke hearts, drained
• 3 cups (750 mL) baby arugula
• 1/2 oz (15 g) fresh Parmesan cheese (1/4 cup/50 mL grated)
• black pepper (optional)
Dressing
• 1/4 cup (50 mL) fresh basil leaves
• 1 garlic clove
• 6 tbsp (90 mL) olive oil
• 2 tbsp (30 mL) lemon juice
• 1 tsp (5 mL) dijon mustard
• 1/4 tsp (1 mL) salt
• 1/4 tsp (1 mL) sugar
Directions:
1. Using Quick Slice, cut bell peppers into strips and squash into half-moons.
2. Preheat Double Burner Grill over medium heat 3-5 minutes. Place bread cubes in one half of pan. Add squash, bell pepper and artichokes to other half of pan; lightly spray with oil using Kitchen Spritzer.
3. Cook 6-8 minutes or until bread cubes are golden brown and vegetables are crisp tender, stirring halfway through.
4. Transfer bread cubes and vegetables to large serving bowl.
5. For dressing, place basil and garlic in Manual Food Processor; process until finely chopped. Add remaining dressing ingredients; process until well blended.
6. Add arugula and cheese to bowl. Drizzle dressing over salad; toss to mix and coat. Serve with black pepper, if desired.
Kristi stays busy with her writing, shoe designing and Pampered Chef business so she knows how precious time can be; she also knows how important eating healthy and showing your children life beyond fast food can be. The Pampered Chefs Happy Families segment is designed with busy lives in mind. The recipes presented will be fast, easy and affordable to everyone. The tools you need to complete these meals can be found on her personal website.
Comments or questions are welcome.