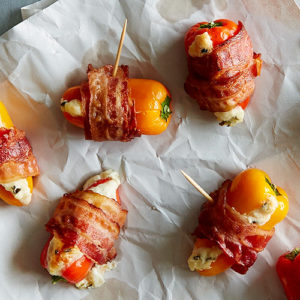 By Kristi O'Toole
Crispy bacon wrapped around the tender mini peppers with a creamy and cheesy filling – what's not to love!
Ingredients:
• 12 sweet mini peppers
• 4 oz (125 g) chive & onion cream cheese spread, softened
• 4 oz (125 g) shredded Italian cheese blend (1 cup/250 mL)
• 2 garlic cloves, pressed
• 1 tsp (5 mL) hot sauce (optional)
• 12 slices fully cooked packaged bacon
• 12 wooden picks
Directions:
1. Preheat oven to 400°F/200°C. Cut a slit lengthwise from the top to the bottom of each pepper.
2. Mix cream cheese, shredded cheese, garlic and hot sauce in Small Batter Bowl until thoroughly combined; microwave, uncovered, on HIGH 15-20 seconds or until mixture is softened.
3. Spoon mixture into a large resealable plastic bag; trim corner of bag wide enough for filling to squeeze through easily.
4. Gently pinch peppers to open; squeeze filling evenly into peppers. Wrap a slice of bacon around center of each pepper; secure with a wooden pick. Arrange peppers in Small Ridged Baker.
5. Bake 20-23 minutes or until peppers soften and filling begins to brown slightly. Remove from oven; remove wooden picks and serve.
Kristi stays busy with her writing, shoe designing and Pampered Chef business so she knows how precious time can be; she also knows how important eating healthy and showing your children life beyond fast food can be. The Pampered Chefs Happy Families segment is designed with busy lives in mind. The recipes presented will be fast, easy and affordable to everyone. The tools you need to complete these meals can be found on her personal website.
Comments or questions are welcome.