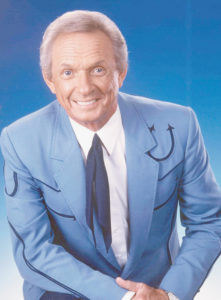 By Kristi O'Toole
About a year ago, 84-year-old country legend Mel Tillis was in critical condition following complications from colon surgery. The entire 2016 year was rocky for his health, but his daughter, Pam, kept country fans at ease with updates about her legendary father. Some parts of the year were scary when she begged fans for prayers, but later posts reassured us Mel was feeling much better. She even went on to say that he was sitting up, watching TV!
"It bears repeating how much your prayers mean to our family…We'll keep you posted if there is any change, but right now we're just trying to fatten him up and get him strong!!! Thank you all so much for your thoughts and prayers," she wrote on Facebook in April 2016.
Mel's publicist Don Murray Grubbs issued a statement about his health since he left the care facilities.
"In November, Mel made the trip from Nashville back to his home state of Florida. He is currently at home in Ocala where he is being cared for by nurses as needed and continued physical therapy. His vitals are good and his sense of humor is very much intact. He is trying to get stronger and we are hopeful that will be the case now that he's back at home. He misses all of his loyal fans and is beyond thankful for all the well wishes," the statement reads.
When Kristi isn't writing for NewzBreaker, she writes supernatural suspense novels having three currently published. If you would like to check out any of her books they can be found online and at other major retailers like Books a Million and Amazon. Never one to rest, she also paints/designs shoes and items for the home. Check out her eBay store, Watered Down Vodka and her FB page.
Comments or questions are welcome.