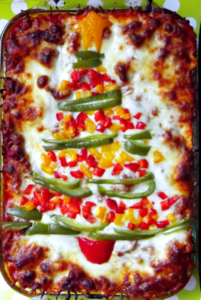 By Kristi O'Toole
Try something different this holiday season. Try this rich and cheesy celebration lasagna as an alternative the standard holiday main dish.
Ingredients:
• 1 pound sausage
• 1 pound hamburger
• 2 jars spaghetti sauce
• 4-5 cups mozzarella cheese
• 2 eggs
• 32 oz ricotta
• 1 package no boil noodles
Directions:
1. Brown and drain the sausage and hamburger together.
2. Add sausage and hamburger to large bowl and pour in the two jars of sauce.
3. In separate bowl mix the ricotta, 2 eggs and 1 cup of cheese.
4. Spread a thin layer of sauce in the bottom of a 9×13 dish.
5. Place noodles on top of sauce.
6. Spread ⅓ of the cheese mixture on the noodles.
7. Sprinkle with a little more shredded mozzarella.
8. Top with more sauce.
9. Do another layer of noodles.
10. Cheese mixture
11. Shredded cheese
12. Sauce.
13. Noodles.
14. Cheese mixture.
15. Sauce.
16. Shredded Cheese.
17. Arrange peppers into Christmas Tree shape.
18. Cover with foil and bake 30-40 minutes at 350 till bubbly.
19. Remove foil last few minutes of baking to let cheese get brown.
Kristi stays busy with her writing, shoe designing and Pampered Chef business so she knows how precious time can be; she also knows how important eating healthy and showing your children life beyond fast food can be. The Pampered Chefs Happy Families segment is designed with busy lives in mind. The recipes presented will be fast, easy and affordable to everyone. The tools you need to complete these meals can be found on her personal website.
Comments or questions are welcome.