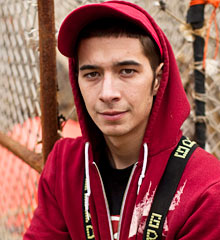 By Kristi O'Toole
Deadliest Catch star Jake Harris was attacked and brutally beaten on Saturday night. He is currently in the intensive care unit, recovering from a "cracked skull" and "brain trauma." According to KIRO 7, the incident happened in Washington State. Jake Harris' current condition is unclear, and it's unknown if his injuries were life-threatening. Josh Harris, Jake's brother said that the couple who attacked his brother were known for doing such things. Apparently, they have beaten up folks before and subsequently robbed them.
When Kristi isn't writing for NewzBreaker, she writes supernatural suspense novels having three currently published. If you would like to check out any of her books they can be found online and at other major retailers like Books a Million and Amazon. Never one to rest, she also paints/designs shoes and items for the home. Check out her eBay store, Watered Down Vodka and her FB page.
Comments or questions are welcome.