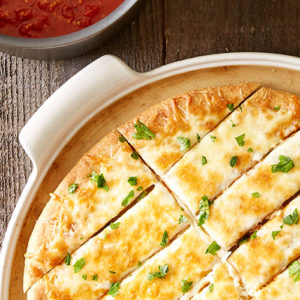 By Kristi O'Toole
We all know the perfect partner of any Italian dish is a great bread.
Ingredients:
• 1 pouch Pizza Crust Mix or 1-lb (450 g) store-bought pizza dough
• 1 1/4 cups (300 mL) warm water (110-120ºF/44-49ºC)
• 1/3 cup (75 mL) vegetable or olive oil, plus additional oil to brush stone
• 1 tbsp (15 mL) butter, melted
• 4 garlic cloves
• 1/2 cup (125 mL) grated Parmesan cheese
• 2 cups (500 mL) grated part-skim mozzarella cheese
• chopped fresh parsley (optional)
• Homemade Pizza Sauce (optional – for dipping)
Directions:
Preheat oven to 425°F (220°C). Prepare Pizza Crust Mix according to package directions.
Brush White Large Round Stone with additional oil. Place dough onto center of baking stone. Roll out dough to within ½" (1-cm) of edge. Pierce entire surface of dough with fork. Bake crust on lowest rack of oven 16-18 minutes or until crust is golden brown. Remove stone from oven to cooling rack.
Melt butter in 1-cup (250 mL) Silicone Prep Bowl; press garlic using Garlic Press into bowl. Brush crust with garlic butter. Top with cheese. Bake 6-8 minutes or until crust is deep golden brown and cheese is melted.
Top with chopped parsley and cut into rectangular pieces for serving. Serve with Homemade Pizza Sauce for dipping.
Kristi stays busy with her writing, shoe designing and Pampered Chef business so she knows how precious time can be; she also knows how important eating healthy and showing your children life beyond fast food can be. The Pampered Chefs Happy Families segment is designed with busy lives in mind. The recipes presented will be fast, easy and affordable to everyone. The tools you need to complete these meals can be found on her personal website.
Comments or questions are welcome.