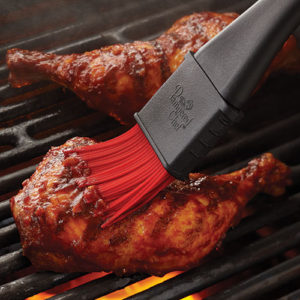 By Kristi O'Toole
There are so many BBQ sauce variations the average person wouldn't know where to start. Here is a simple yet tasty recipe for you to begin your 'Perfect BBQ sauce' adventure with.
Ingredients:
• 1 cup (250 mL) ketchup
• 1/2 cup (125 mL) packed brown sugar
• 3 tbsp (45 mL) cider vinegar
• 3 tbsp (45 mL) Garlic & Herb Rub
• 1 tbsp (15 mL) Dijon mustard
• 1 tbsp (15 mL) Worcestershire sauce
Directions:
Combine all of the ingredients in a 1.5-qt. (1.4-L) Saucepan.
Bring to a simmer on the stove top over medium-high heat. Reduce the heat to medium-low, then cover and simmer for 10 minutes, stirring occasionally. Remove from the heat.
Reserve ½ cup (125 mL) of the sauce for serving. Brush the remaining sauce over food before baking or broiling. (For grilling, brush the sauce over food during the last 10 minutes of cooking to prevent burning).
Kristi stays busy with her writing, shoe designing and Pampered Chef business so she knows how precious time can be; she also knows how important eating healthy and showing your children life beyond fast food can be. The Pampered Chefs Happy Families segment is designed with busy lives in mind. The recipes presented will be fast, easy and affordable to everyone. The tools you need to complete these meals can be found on her personal website.
Comments or questions are welcome.