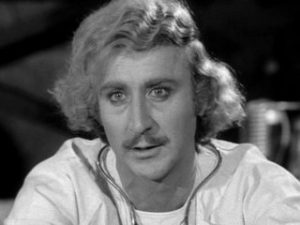 By "Bad" Brad Berkwitt
Sad news to report… One of the many actors from my childhood watching movies with my Dad has passed away today. Gene Wilder, passed away from a disease that I truly wish they could find a cure for, Alzheimer's. He was 83. As a young man, Dad took me to so many movies and all of Wilder's. From such classics as The Producers, Blazing Saddles, Young Frankenstein, Willy Wonka and the Chocolate Factory, Silent Movie, Silver Streak and Stir Crazy to name just a few.
His nephew Jordan Walker – Pearlman said in a statement, "We understand for all the emotional and physical challenges this situation presented we have been among the lucky ones — this illness-pirate, unlike in so many cases, never stole his ability to recognize those that were closest to him, nor took command of his central-gentle-life affirming core personality. The decision to wait until this time to disclose his condition wasn't vanity, but more so that the countless young children that would smile or call out to him "there's Willy Wonka," would not have to be then exposed to an adult referencing illness or trouble and causing delight to travel to worry, disappointment or confusion. He simply couldn't bear the idea of one less smile in the world."
Wilder truly was an artist who left an indelible mark on the world through humor and Gene, I will always tune in when one of your greats coming on the tube.
NewzBreaker extends our deepest condolences to the Wilder family in their time of grief.
Comments or questions are welcome.