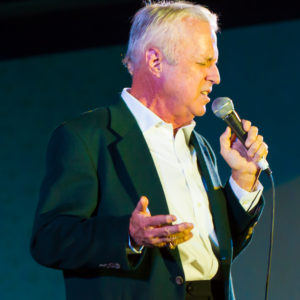 By Jerry Pearce
One evening in 2010, I was viewing the remake of the classic 1950s film Sabrina, a somewhat saccharine love story starring Harrison Ford, Greg Kinnear, and Julia Ormond in the titular title role. During an early intimate love scene in which Kinnear and a female share a dance outdoors to a beautiful love song, I became transfixed by the voice singing over the soundtrack. I hadn't a clue as to who the singer was, but he sounded quite familiar, and possessed a wonderful vocal instrument. Scanning across the soundtrack section of the Internet Movie Database, I soon tracked down the information and found the song for download on iTunes. The song was entitled "How Can I Remember?" and the singer's name was Michael Dees.
The name was a mystery, and after punching it into a Google search and finding only one current music title credited to his name that was released some eight years prior, I set out to discover more about the singer. How could an individual with such a flawless voice have only one album for sale on the market? As I was soon to find out, this wasn't the case.
Dees was first featured as a young performer on the Steve Allen show in the 1960s, and Allen, already a successful songwriter and impressed with the young man's voice, offered the singer a chance to record an album of his compositions. The resulting album, "Michael Dees Sings Steve Allen," gained the singer some notice when it was released on Dot Records in 1964. This would lead to a recording contract with Capitol Records in the late 1960s, during which he would record a further two albums ("The Michael Dees Affair" and "Talk To Me Baby") The second album, the first long play record of Dees that I was able to acquire, features definitive performances on the songs "A Beautiful Friendship" and the ballad "Somewhere" (from the musical West Side Story), not to mention an interesting spin on the old Sinatra standard "Nice 'n Easy."
He would follow his albums with a sustained successful career in recording songs and voiceovers for movies and television, which would lead to the guest spot singing "How Can I Remember?" for Sabrina. In reviewing the singer's background, I soon figured out why his voice sounded so familiar. In the midst of his voiceover career, Dees was hired to provide the singing voice to Ray Liotta when he played the role of Frank Sinatra in the 1998 HBO television film "The Rat Pack." Instead of licensing the original Sinatra recordings for Liotta to mime to in the film, Dees was brought in to record the songs "I'm Gonna Live Until I Die," "High Hopes," and "One For My Baby," for the film's soundtrack (never released commercially). Although I dare say Dees' vocal range exceeds that of the Chairman of the Board, he impersonates Sinatra vocally quite well.
Curiosity got the best of me one day and I decided to look up the singer on Facebook. In fact, he had his own page and was nice enough to answer the message I sent, telling him how much I enjoyed his music. He asked me for my address, and a few weeks later, an envelope arrived in the mail containing a compact disc version of his 60s album "Talk To Me Baby," a very nice gesture on his part.
Michael Dees still performs at various spots on the West Coast, and was a featured performer with the Frank Capp Juggernaut Big Band at the annual Sinatra Festival held at the Los Angeles Jazz Institute. A quick search on YouTube will uncover a great video of Dees and the Capp orchestra performing the Neal Hefti arrangement of "I Only Have Eyes For You," written for Sinatra in 1962.
Here we review Dees' two most recent albums, and though it goes without saying, they are HIGHLY recommended. Both are available on compact disc and instant download with Amazon Music and iTunes.
One Single Rose (2002)
Released on the Mack Avenue Records label, a delightful, romantic collection of ballads and songs of light swing and medium tempo, complimented by a top-notch musical ensemble that includes the late musicians George Gaffney on piano as well as Oscar Castro-Nieves on guitar. In only twelve songs, Dees covers some impressive musical ground with some unique performances, beginning with his gentle readings of Jack Segal's "More Love" as well as a superb recasting of Stevie Wonder's "Lately" with the vocalist pulling out all of the impressive vocal punches he can. Alan and Marilyn Bergman's "Where Do You Start" sees Dees paired intimately with Gaffney solo at the piano, while "This Happy Madness" sees the same intricate treatment, this time with Nieves at the guitar. "You Were Meant For Me," perhaps last famously seen as a tune Gene Kelly danced and sang to in the golden age of Hollywood, is redone superbly here with a bossa nova arrangement, as does the title tune, "One Single Rose." The standout performance rests with Dees' beautiful sounds on the old Irving Berlin song "How Deep Is The Ocean?" with the type of lush arrangement backing him that will tug at your heartstrings and force you and your lover to the dance floor. All in all, a golden album. 5/5.
The Dream I Dreamed (2015)
It was a prolonged period before a new Michael Dees album reached the market, but the singer made the wait worthwhile with his recent release on Jazzed Media Records, one comprised of all original material written by the vocalist himself. Dees is supported by a core rhythm trio consisting of Terry Trotter on piano, Chuck Berghofer on bass, as well as Steve Schaffer on drums, as well as several guest musicians providing instrumental solos at intervals throughout the bulk of the album's fourteen selections. Notable performances include the opener "In A Moment," a wonderful tribute to the famous Louisiana city with "Back In New Orleans (featuring great clarinet from Bob Sheppard), and the gentle rhythm of "Am I Supposed To Care?" The two defining moments of the album come in both the form of a swing tune and a ballad. The swing tune, "So Crazy for You," features Dees in wonderful fast-paced rhythm with some dynamite lyrics as well as Chuck Manning on tenor saxophone donating some erratic yet lovely reed solos that fit in well with the theme of the song. The ballad, "Where Love Goes," is perhaps the best written song of the album, featuring Dees in his most tender performance since his earlier album, and wonderful piano work by Trotter. Featuring a deluxe digipak packaging with extensive liner notes and a complete history of the singer, this is another title that is not to be missed. 5/5.
Until next time, music lovers!
Jerry Pearce is an amateur singer in the vein of Frank Sinatra, Perry Como, and Dick Haymes and has released two discs of standards music, Crossroads in 2010, and One Summer Night in 2016. Samples of his music can be heard on his YouTube Channel. To purchase his CDs use the form box below.
Comments or questions are welcome.