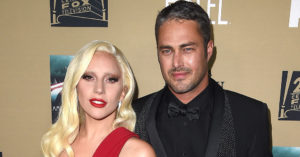 By Kristi O'Toole
Fearing the 'Bad Romance' pun had been burned to a crisp I decided to go with that little gem instead.It seems after five years together the hot Hollywood couple have called it quits. Kinney and Gaga began dating in 2011 when he played her love interest in the video for 'You and I". Kinney then popped the question on Valentine's Day 2015.
According to Gaga's Instagram account, she is doing charity work in Mexico. Her posts from Tuesday make no mention of Kinney. It's a similar story over on his page, where he was seen celebrating his birthday on July 15, with no sign of her. In fact, you have to go back several months to find a photo of them together.
When Kristi isn't writing for NewzBreaker, she writes supernatural suspense novels having three currently published. If you would like to check out any of her books they can be found online and at other major retailers like Books a Million and Amazon. Never one to rest, she also paints/designs shoes and items for the home. Check out her eBay store, Watered Down Vodka and her FB page.
Comments or questions are welcome.