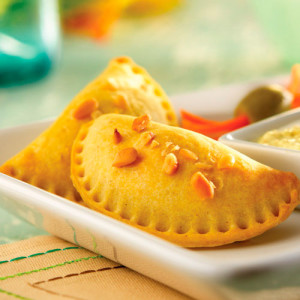 By Kristi O'Toole
These flavorful appetizers are derived from Caribbean patties, which are dough pastries filled with a spicy and sweet meat mixture.
Instructions:
Pastry
2 cups all-purpose flour
• 1 cup masa harina (instant corn masa mix)
• 1 1/2 teaspoons sugar
• 1/2 teaspoon salt
• 1/2 cup chilled butter
• 2 eggs, separated
• 3/4 cup ice-cold water
Filling & Sauce
• 1 medium onion, chopped
• 2 serrano peppers, seeded and chopped
• 3 large garlic cloves, pressed
• 4 ounces bulk pork sausage
• 1/3 cup dried pineapple, diced
• 1/4 cup pimiento-stuffed green olives, sliced
• 1/4 cup toasted plus 2 tablespoons untoasted pine nuts, divided
• 2 tablespoons prepared chutney
• 1 cup sour cream
• 1 teaspoon curry powder
• 1/4 teaspoon salt
Directions:
Preheat oven to 400°F. Combine flour, masa harina, sugar and salt in Stainless (6-qt.) Mixing Bowl. Cut in butter using Pastry Blender until mixture resembles coarse crumbs. Whisk egg yolks and water in Easy Read Measuring Cup; slowly stir into flour mixture, mixing until dough forms into a ball. (Add additional water, 1 tablespoon at a time, if necessary.) Form dough into 6-inch disk and wrap tightly; refrigerate while preparing filling.
In (10-in.) Skillet, cook onion, peppers and garlic over medium-high heat 1-2 minutes or until tender. Place half of the pepper mixture into Small Batter Bowl; set aside for sauce. Add sausage to Skillet; cook and stir 3-5 minutes or until no longer pink, breaking into crumbles using Mix 'N Chop. Combine sausage mixture, pineapple, olives, 1/4 cup toasted pine nuts and chutney inClassic Batter Bowl.
Cut dough in half and roll out to within 1 inch of edge of well-floured Large Grooved Cutting Board. Without pressing plunger, cut out nine circles using Cut-N-Seal®. (Gather and roll scraps, if necessary.) Transfer circles to sheet of Parchment Paper. Repeat with remaining dough. Scoop filling onto dough with Small Scoop. Fold dough in half. Position Cut-N-Seal® over edge; press down to seal. Arrange pastries on Large Round Stone with Handles; brush with egg whites. Chop 2 tablespoons untoasted pine nuts; sprinkle over pastries. Bake 20-25 minutes or until golden. Remove from oven.
For sauce, add sour cream, curry powder and salt to pepper mixture in Small Batter Bowl. Serve with pastries.
Kristi stays busy with her writing, shoe designing and Pampered Chef business so she knows how precious time can be; she also knows how important eating healthy and showing your children life beyond fast food can be. The Pampered Chefs Happy Families segment is designed with busy lives in mind. The recipes presented will be fast, easy and affordable to everyone. The tools you need to complete these meals can be found on her personal website.
Comments or questions are welcome.