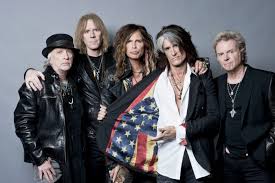 By Kristi O'Toole
We never thought the day would come and despite months of reassurances from Aerosmith, it looks like that day is about to arrive. This morning, front man Steven Tyler revealed that Aerosmith will officially embark on a farewell tour beginning in 2017, bringing the band's 47 year chapter to an end. The shocking news came during a live call-in interview with The Howard Stern Show on SiriusXM where Tyler, who is preparing to embark on his very first solo tour in honor of his debut country release We're All Somebody From Somewhere in a matter of weeks, finally answered the looming question as to the future of Aerosmith, currently on hiatus and with every band member currently working on other projects and exploring other avenues.
The decision to embark on what is to be their final tour isn't a new one – in fact, it's been a long time coming. Aerosmith guitarist Joe Perry told Rolling Stone earlier this year that the idea of saying farewell is something they've tossed around for several years now, with all members of the band now in agreement that it's finally the right time for a farewell tour.
When Kristi isn't writing for NewzBreaker, she writes supernatural suspense novels having three currently published. If you would like to check out any of her books they can be found online and at other major retailers like Books a Million and Amazon. Never one to rest, she also paints/designs shoes and items for the home. Check out her eBay store, Watered Down Vodka and her FB page.
Comments or questions are welcome.