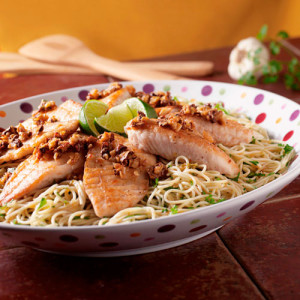 By Kristi O'Toole
Talapia is a very affordable white fish, great light taste even the kids will love!

Ingredients:
12 oz uncooked angel hair pasta
• 1 lime
• 8 garlic cloves, peeled
• 2 medium dried chipotle peppers
• 1 cup packed fresh parsley
• 1 cup packed fresh cilantro
• 1 lb tilapia fillets
• 3 tbsp vegetable oil, divided
• Salt and coarsely ground black pepper
• 1/2 cup all-purpose flour
• 3/4 cup chicken broth
• 1/2 cup (1 stick) cold butter, cubed
• 1/4 tsp salt
• Lime wedges (optional)
Directions:
Cook pasta according to package directions; drain. Place pasta in Stainless (6-qt.) Mixing Bowl; cover. Meanwhile, zest lime using Microplane® Adjustable Fine Grater. Finely chop garlic and peppers together using Food Chopper. Finely chop parsley and cilantro using Chef's Knife.
Cut each fillet into 3 pieces. In (12-in.) Skillet, heat 2 tbsp of the oil over medium-high heat 1-3 minutes or until shimmering. Season tilapia with salt and pepper; lightly dredge with flour. Cook 6-8 minutes or until golden brown, turning once. Remove tilapia from Skillet; keep warm.
For sauce, add remaining 1 tbsp oil, garlic and peppers to Skillet; cook and stir constantly 5-10 seconds to prevent garlic from burning. Add broth. Reduce heat to medium and bring to a boil. Add butter, zest and salt; whisk until butter is melted. Remove Skillet from heat. Remove garlic and peppers from sauce to (1-cup) Prep Bowl.
Add sauce, parsley and cilantro to pasta; toss to coat. Place tilapia over pasta; top with garlic and peppers. Garnish with lime wedges, if desired.
Kristi stays busy with her writing, shoe designing and Pampered Chef business so she knows how precious time can be; she also knows how important eating healthy and showing your children life beyond fast food can be. The Pampered Chefs Happy Families segment is designed with busy lives in mind. The recipes presented will be fast, easy and affordable to everyone. The tools you need to complete these meals can be found on her personal website.
Comments or questions are welcome.