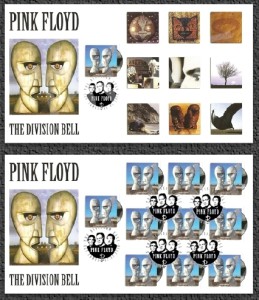 By Kristi O'Toole
Let me just begin by saying 50 years! What a way to make a gal feel old…
Anyway, on July 7th, 10 special stamps will be issued by the UK's Royal Mail, to honor Pink Floyd. Six of the stamps celebrate a selection of album covers: The Piper at the Gates of Dawn, Atom Heart Mother, The Dark Side of the Moon, Wish You Were Here, Animals and The Endless River. The other four stamps focus on the Floyd's live appearances, from UFO in 1966, through to The Division Bell tour.
Renowned for creating some of rock music's most acclaimed albums and iconic imagery, Pink Floyd are also lauded for their ground-breaking live performances. Royal Mail has worked closely with Pink Floyd to bring us this exceptional collection.
When Kristi isn't writing for NewzBreaker, she writes supernatural suspense novels having three currently published. If you would like to check out any of her books they can be found online and at other major retailers like Books a Million and Amazon. Never one to rest, she also paints/designs shoes and items for the home. Check out her eBay store, Watered Down Vodka and her FB page.
Comments or questions are welcome.