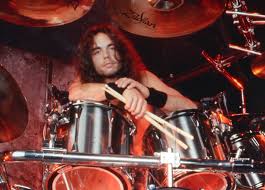 By Kristi O'Toole
The former drummer with the US thrash metal band Megadeth, Nick Menza, is reported to have died after collapsing on stage at a gig in California. Menza, who was 51, is said to have suffered a heart attack during one of his regular sessions with his band OHM at a small Los Angeles jazz club, the Baked Potato. The club posted "RIP Nick Menza" on its Facebook page in the early hours of Sunday. Dave Mustaine, co-founder of Megadeth, said on Twitter that he awoke at 4am to the news. "Tell me this isn't true," he wrote.
Marty Friendman, the former Megadeth guitarist, wrote on Facebook: "We all know the great and unique drummer that Nick Menza was, but he was also a trustworthy friend, a hilarious bandmate, as well as a very loving dad. I'm beyond sad, did not see this coming at all. RIP Brother."
Mike Simpson, a fan who said he was at the gig, reported that Menza collapsed before the third song in the band's set. "I was watching his band OHM at the Baked Potato tonight and he collapsed on stage. Paramedics were saying it looked like a heart attack," he wrote.
When Kristi isn't writing for NewzBreaker, she writes supernatural suspense novels having three currently published. If you would like to check out any of her books they can be found online and at other major retailers like Books a Million and Amazon. Never one to rest, she also paints/designs shoes and items for the home. Check out her eBay store, Watered Down Vodka and her FB page.
Comments or questions are welcome.