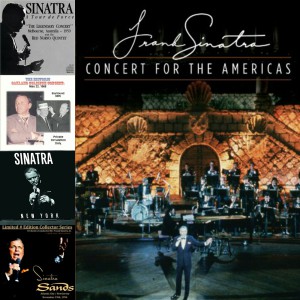 By Jerry Pearce
From his first appearance with the Hoboken Four on Major Bowes' Amateur Hour in 1935, to his final concert at the Palm Desert Golf Classic in 1995, Frank Sinatra was a man who loved to perform, a consummate artist most comfortable behind the microphone, communicating to his audience in the best way he knew how.
From his 1973 comeback to his final retirement in 1995, there were more than a thousand concert appearances alone. Adding in the other thirty-five odd years between his initial breakout and first retirement in 1971 drives that figure to almost mind-boggling numbers. Sixty years on stage makes for a massive plethora of songs and performances.
The question may then be raised: what WAS Frank's greatest concert performance?
Getting an answer to this question is no small task, even if we were to increase the amount to ten concerts, or even twenty. There are fans who prefer certain periods in Sinatra's career, and thus, restrict their answers to only those times and performances. In order to take a more comprehensive look, one concert was chosen from each of the last five decades of his performing career. It wouldn't be wise to look at this list as his five greatest performances, just five noteworthy moments in an otherwise mammoth public existence. Three of the concerts reviewed here are available officially, two of them actually released by the Sinatra family just a short time ago, while the others exist only in bootleg, privately circulated form, made by concertgoers who were in attendance.
Here are five specific instances where Sinatra left a lasting mark on his audience:
West Melbourne Stadium, 1959
"Get your hand off that broad!"
This past April 1st marks the fifty-seventh anniversary of this landmark recording, culled from two nights of concerts during a miniature tour of Australia featuring Sinatra with vibraphonist Red Norvo and his quintet. Along with some recordings Sinatra would make with a sextet during a charity world tour a few years later (1962), his performances with the Red Norvo Quintet is considered some of the loosest, jazziest singing he ever did in his entire career. Featuring the cream of the crop of his 1950s musical output and amplified with the presence of pianist Bill Miller, Sinatra is captured at his vocal peak performing scaled down versions of his Capitol orchestral classics with this small ensemble. While there has often been debate as to whether Sinatra could be considered a jazz singer, these recordings certainly skirt that line between jazz singing and plain performance of standards. Playing this concert and comparing each song audibly with the studio recordings will show you why.
Oakland Coliseum, 1968
In the late 1960s, with Robert F. Kennedy rising as a lead candidate for presidential election and Sinatra still sore from having been snubbed years earlier by the Kennedy's over allegations connecting him to the Mafia, Frank threw his support behind Democratic Hubert Humphrey's presidential bid and hosted a series of concerts, the first being in Oakland, California on May 22, 1968. Frank is in swell voice throughout this concert, introducing "All I Need Is The Girl" from his recent album with Duke Ellington, a hauntingly beautiful reading of the Nelson Riddle arrangement of "Willow Weep For Me," as well as one of his attempts to integrate new music into his act, "Goin' Out Of My Head," which he had covered slightly the year before in a television special with Ella Fitzgerald. Ironically, when this concert found its way to private release on CD some years after it was recorded, his special version of "High Hopes" that he had recorded in 1960 to support the Kennedy campaign, was included as a bonus track.
Carnegie Hall, 1974
"For those of you wondering, Hank Aaron has just hit the home run!"
A bombastic orchestral overture featuring a few of his greatest hits serves as the prelude to one of Frank's finest New York concerts, recorded on April 8, 1974. Overshadowed by the "Main Event" concerts that would follow (released in album form) in October of the same year, this concert was the cap of a fundraiser being held for the children's charity Variety Clubs International, of which Frank was a strong supporter. Circulating as a bootleg for many years before being released in crisp audio on the "Sinatra: New York" box set, it is clear this concert was recorded with the intention of commercial release before being unceremoniously shelved. From the opening cries of "Come Fly With Me," Frank and the orchestra, conducted by Bill Miller, are swingingly on-point. Frank fumbles with a few lines early on, but turns it into a source of amusement for his audience, which includes the then current Mayor of New York, Abe Beame. Standout performances include "I Get A Kick Out Of You," "Don't Worry 'Bout Me," a riveting "I've Got You Under My Skin," and a rousing, stomping ("Did I get any on you with that last line?") version of "That's Life." Held the same evening Hank Aaron shattered the home run record set by Babe Ruth (which Frank mentions early on in the show), the event ties in well with Frank introducing a baseball song from his recent comeback (Ol' Blue Eyes Is Back) album, "There Used To Be A Ballpark."
Altos de Chavon Amphitheater, 1982
Probably the most visually documented concert of Frank's later career after 1974s "Main Event," this "Concert of the Americas" was filmed in the Dominican Republic in August 1982 and features Sinatra in very fine voice at the age of 66. The Sinatra concert was the flagship of a series of performances held to celebrate the opening of the Greek styled Altos Amphitheater, Frank joined by the likes of Heart and Santana for the inaugural ceremonies. Both the Amphitheater and studio Paramount Pictures were owned by conglomerate Gulf and Western, which allowed the concert to be filmed by Paramount for broadcast on American television via the Showtime network. Backed by his regulars, including Vincent Falcone at piano, Irving Cottler on drums and Charlie Turner on lead trumpet, the Sinatra contingent is joined by Buddy Rich and his orchestra, and swing is the thing! Memorable performances include a superb big band version of "Come Rain or Come Shine," a spot-on reading of his 1962 (Hefti arrangement) "I Won't Dance," as well as an intimate guitar-voice duo send up of "Send in The Clowns" with his guitarist Tony Mottola. A thrilling instrumental performance by Buddy Rich and his orchestra is also featured at intermission. Released several times over the years on home video, this is not to be missed.
Sands Atlantic City, 1994
"We love ya Frank!"
"Heyyyy, I love you too!"
This concert is noteworthy, not because Sinatra is in his best voice, but because of the palpable atmosphere of love that emanates. Recorded in November, 1994 at the Sands Casino Hotel in Atlantic City, this was Frank's final appearance in his home state of New Jersey. Given the subtitle "The Final Curtain," the recording was made by an audience member in attendance and has circulated amongst private collectors since. The audio is sometimes a bit muddy and inaudible, but it captures the sound of a legend and an audience who adores him. Suffering from a cold, making even some of the easiest vocal passages difficult, you hear a thundering audience rally around their hero, who at the time, was approaching his seventy-ninth year. Frank apologizes numerous times for his voice not being up to par ("I would've went home already if I was sitting out there with you"), and he flubs some lines ("Tell me where I'm at!" he jokes during "I've Got You Under My Skin"), but makes up for it with some witty exchanges, not to mention some slight playful banter with his conductor, Frank Jr. ("Don't make a speech, just tell me what the next song is!"). It might not have been his best performance, but the romance between a singer and his listeners is very prevalent, giving Frank a nice epilogue to a relationship with a gambling town he had been performing in regularly since the late 1970s, not to mention earlier in his career during its nightclub era.
No doubt, for the scores of people who were fortunate enough to have seen him live in performance, the concert they witnessed WAS the best performance they've seen.
Until next time, Sinatra lovers!
Jerry Pearce is an amateur singer in the vein of Frank Sinatra, Perry Como, and Dick Haymes and has released two discs of standards music, Crossroads in 2010, and One Summer Night in 2016. Samples of his music can be heard on his YouTube Channel. To purchase his CDs use the form box below.
Comments or questions are welcome.