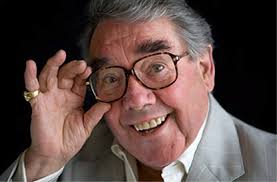 By Kristi O'Toole

His publicist said: "Ronnie Corbett CBE, one of the nation's best-loved entertainers, passed away this morning, surrounded by his loving family.
"They have asked that their privacy is respected at this very sad time."
Corbett was one of the UK's best-loved comedians and along with Ronnie Barker, their double act was one of the most successful of the 1970s and '80s. The entertainer had been suffering from ill-health for some time and had been in hospital in 2014 with gall bladder problems.
NewzBreaker extends our deepest condolences to the Corbett family in their time of grief.
When Kristi isn't writing for NewzBreaker, she writes supernatural suspense novels having three currently published. If you would like to check out any of her books they can be found online and at other major retailers like Books a Million and Amazon. Never one to rest, she also paints/designs shoes and items for the home. Check out her eBay store, Watered Down Vodka and her FB page.