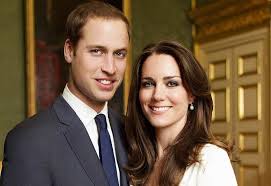 By Bob Price
The British have invaded America yet one more time. On Monday Prince William and his lovely wife Kate, the Duke and Duchess of Cambridge, arrived in New York City to the cheers and screams of thousands of adoring fans. They were quickly whisked away for a hectic itinerary of events, including meeting with President Obama and former First Lady Hillary Clinton and her daughter Chelsea.
They later attended a Brooklyn Nets basketball game, and shared some laughs with what some call American royalty, singers Beyonce and Jay Z.
After the game they met with basketball star LeBron James, who presented Kate with a players jersey and took advantage of the moment, with her husband temporarily distracted, to sneak an arm around the duchess and give her what some describe as a rather lecherous leer, a serious breach of protocol. She seemed obviously uncomfortable in video of the scene.
This morning the royal couple visited the 911 memorial, where they laid a bouquet of flowers on the Flight 93 remembrance panel.
Their visit to the U.S. is primarily to raise funds for the various charities they support.