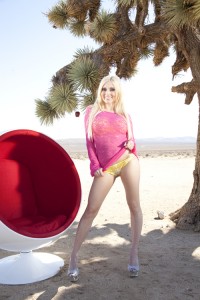 Exclusive Interview by "Bad" Brad Berkwitt
"It's a harassment law (Measure B) and a violation of our freedom of expression. The government should not have control over what we do with our bodies."—Christie Stevens
Flirtatious, long legs and a killer smile can only describe one Adult Movie Star and that is… Christie Stevens. Stevens stars in the new Adult Movie from Adult Source Media, "OASIS" that is getting a ton of buzz around the Adult Movie industry. Look for big things not just in her, but around here in the years to come.
Ladies and Gentlemen, Ms Christie Stevens….
NB: Let's catch the NewzBreaker readers up on your current projects.
I have a new boxcover titled "OASIS" released recently for Adult Source Media available on adultsourcemedia.com. It involves a steamy romantic "Adam and Eve" interpretation shot in the desert with modern furniture. I also have another boxcover titled "TASHA REIGN IS SEXY" out, which is the first title released under Tasha's own company Reign Productions. It features a sexy sorority GG scene with Tasha and I. I also have a new scene on Brazzers that is part of a 3-part Dewey Cocks parody for babygotboobs.com. I also dabbled in mainstream shooting a video game parody clip for the Freddie Wong Youtube channel youtube.com/freddiew.
I will also be appearing at Exxxotica NJ Nov 9-11 and hope to get involved in Hurricane Sandy relief efforts while there.
NB: Where did you grow up?
Temecula, California
NB: What was your nickname as a child and why?
My mom always called me Dolly because I looked like a doll.
NB: You are new on the Adult Movie scene. With that said, what was your biggest surprise from preconceived ideas you had about the business before you got into it?
I didn't think I would be able to fit all those huge dicks in my pussy. There were definitely a few scenes I got nervous before, but they all fit just fine.
NB: What is the first car you owned and any funny stories about it?
I had a white 1990 Ford Escort with bright red interior. While leaving my high school parking lot I would roll down the windows and blast the radio on the semi-blown-out speakers. My high school boyfriend would be in the car with me and got so embarrassed!
NB: What are your thoughts on Measure B?
It's a harassment law and a violation of our freedom of expression. The government should not have control over what we do with our bodies. Hello big brother. However, if it passes I'm sure the adult industry will find a way to go on and be just fine.
NB: If you could have one mainstream actor and actress to star in an adult movie, who would you pick and why?
Charlie Sheen. Isn't it about time?
Marilyn Monroe.
Lindsay Lohan. She's already graced the cover of Playboy. It won't be long before Vividknocks on her door (if they haven't already).
NB: What sexual act have you not done on film yet, but are really eager to try?
Anal…. Coming soon!
NB: What is your favorite word?
Fuck
NB: What is your least favorite word?
No
NB: What is one thing you can share with the NewzBreaker readers that has never been heard before?
I used to be an emo-chick. I know it's hard to believe with the classic long blonde hair and big tits, but I had tons of piercings, a black and pink short pixie hair cut, and was known to shop at Hot Topic on numerous occasions.
NB: What is the one question you have never been asked, but wish that you were?
"What is your favorite form of masturbation?"
NB: The floor is yours…
A finger on my clit and a vibrator around/inside my ass.
NB: If you were stranded on a desert island, what is the one CD and movie you would like to have?
Movie: Moulin Rouge
CD: I don't think I would make it if I could only have one CD. I love music!
NB: Finally, do you have a saying you continue to live your life by?
"Everything is for a reason/everything happens for a reason."
(Interviewer's note: I would like to thank John Amatucci from Adult Source Media for coordinating this interview.

Loading ...