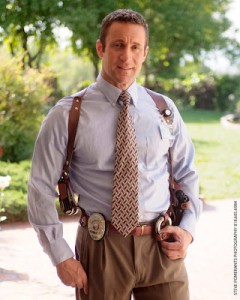 Exclusive Interview by Misty Emerald
"Eating pussy has always been my favorite thing to do. More so than racing cars, private plane flying, cycling, or any other sexual function. I was just born to eat pussy, it's like making-out, but you get to hear, feel and taste a woman cum. What else in life could be better than that?" – Jack Lawrence
Star of Anchorman – A XXX Parody, Jack Lawrence is more than just a handsome face and chiseled body, packing a wonderful surprise. Parody Porn King, Director of his own Instructional DVD-Breaking into Porn, former member of the US Military and Police Officer, Jack Lawrence has proven himself to be the jack of all trades. In this Exclusive Interview, Jack reveals his thoughts on his career, sexual preferences and gives the Newzbreaker readers insight into the age old question, "Does size really matter?"
Guys grab your pen and paper, this man knows his way around the female anatomy. Ladies, it is so good to hear that missionary and chivalry live on. A true ladies man who makes a uniform appear tantalizing and edible.
Ladies and Gentlemen, Mr. Jack Lawrence…
NB: Let's catch the Newzbreaker readers up on what projects you are working on today?
I actually retired from the adult film industry 14 months ago.
NB: I recently reviewed your movie Anchorman – A XXX Parody. You played top Anchorman Ron Burgundy originally played by actor Will Ferrell. How did you prepare for this role and what challenges did you face?
As with all of my roles, I just watched the movie a few times. Anchorman was my favorite as it was one of my favorite movies anyways.
NB: Your longest sex scene was 9 hours long. What advice or tips can you share with the minute men out there that want to increase their stamina and prolong their ejaculation?
Cardio is the most important aspect. I used to race bicycles for a total of 15 seasons, if you look at the top performers in porn; they all hit the gym at least 5 days a week and are on cardio most of the time. Also, diet is important. No smoking, no fatty or fried foods and no cold medication for sure! As you get older, this is even more important
.
NB: You have appeared in more than 1,000 Adult Film scenes. Tell me about an embarrassing moment you had during the taping of one of your sex scenes.
Embarrassing, well that would have to be 'Wood Failure' for sure. Sometimes the chemistry between yourself and your co-star is just off. Sometimes you're getting the flu or a cold or just run down, sometimes it drama at home or financial troubles. As soon as a performer notices that he is 'off' or 'failing' a chemical called Cortisol is released from your adrenal gland that pretty much kills your wood for the rest of the scene. You can't really stop it once it's released and everyone on set starts to talk about your failure, which makes you stress more. It's kind of like nature's way of making sure that if you were being chased by a Saber Tooth Tiger that your blood is saved for your muscles, and you don't run around with an erection. It's happened to me about 7 times in my career and each time I thought I was finished in the business. Packing your porn bag and walking to your car after failing is the most miserable feeling you can ever experience on set. Almost every performer in porn has failed at one time or another. Even the most reliable performers have bad days. We're humans, we're not robots sporting dildos.
NB: Do you have any future plans to cross over into mainstream? What mainstream movie would you most like to turn into a Porn Parody, starring Jack Lawrence as the leading man?
I actually crossed over into mainstream already. I'm keeping my new stage name on the DL for now, but I have been in 44 movies and TV shows in the last 14 months as a cop with my cop car. Mainstream is a completely different industry, so I'm still the 'new guy' and learning all the idiosyncrasies of the business, making mistakes, and learning from them. At least after having sex on camera 100's of times makes me 'comfortable in front of the camera' in ways that no mainstream actor could imagine.
NB: Is there a porn star that you would like the opportunity to work with? Is there a mainstream actress that you would like to film an adult movie with?
I don't really put much into how a performer looks or how famous they are. For the most part, people are people and you never know if the chemistry is going to be 'professional', 'tolerable' or you end up getting married to them (Annie Cruz for a few years in my case). Whenever I really looked forward to working with someone, they usually turned out to be disappointing. The big names that did really stand out and exceed my expectations were:
Tera Patrick, (second biggest name in porn, I convinced myself before the scene she was going to be a clock-watcher and mechanical, but she was just amazing. That scene taught me to never judge a book by its cover again!)
Bree Olson (I have never met a woman so beautiful AND as sexually free, creative and kinky in my entire life! Again, I had assumed that it was 'all an act' with her, but she is just a sexual animal in the body of a doll.
Savanna Samson. (The director was pressuring her several times before and during the scene "This HAS to be an anal scene, you gotta do anal!" He was completely killing her mood on set, she said, "I'll do anal if I'm turned on and want to do anal." When she looked into my eyes and gave me that look… It was like we (and the other woman in the scene) were the only people on set, and it was awesome.
As far as mainstream actresses go, I would have to say Jennifer Jason Leigh, because I know I can outlast Mike Damone! (Interviewer's note: Robert Romanus played Mike in the movie FAST TIMES AT RIDGEMONT HIGH and had sex with Jennifer which was over before it started.)
NB: I read that your favorite sex to give is Oral Sex and your favorite sexual position is Missionary with eye contact. What is your biggest sexual turn-on? Adversely, what turns you off?
Eating pussy has always been my favorite thing to do. More so than racing cars, private plane flying, cycling, or any other sexual function. I was just born to eat pussy, it's like making-out, but you get to hear, feel and taste a woman cum. What else in life could be better than that?
Missionary is something special to me. I just really get into making out and eye contact. Nothing is hotter than that. To tell you the truth, most positions that look good for porn are uncomfortable and not organic. But it's a job, so you do what the director wants, even if it's on the hood of a car or on a table.
A turn off would be the women in porn who are just there for the paycheck. Not only do I feel that it's sad that they will probably regret their time in the business, but the fans also suffer as well. Most people only have sex with people who want to have sex with them. Being able to perform with a woman who is just there for the check is why we get paid to do what we do. I would rather work with a '2' with a '10' attitude than a '10 with a '2' attitude. You have to be mentally tough to overcome that negativity and insincerity. That's why there are only 200 guys in the world with this job. There would be 200,000 guys if this job was 'easy'! Oh, and for the male porn stars who say that 'all the women loved me'… well, they are better actors than me… it's just not true.
NB: In your opinion, does penis size really matter to women?
Well, it depends. For the most part, women give sex in exchange for love. Men give love in exchange for sex. A man goes into a sexual situation knowing that he will orgasm. A woman goes into a sexual situation hoping to have an orgasm, but some never have them. A bigger penis will feel better, and the more sexually experienced a woman is, the more they seek out a larger penis. Some women find my size uncomfortable. Life is about finding someone who you are sexually compatible with. If a man is small in that department, he can excel in oral gratification, and finger work. If you have read 20 books on sex or more, I'm sure you can overcome the need for size with skills.
One of the biggest guys in the business has women dying to work with him, and one of the smallest guys in the business is in the same boat because he has skills and is unselfish. Two completely different sides of the spectrum and both get laid all the time, on and off camera. If you read a book for every millimeter under 8 inches, that should be a good start! Oh, and porn sets an unrealistic expectation for guys. The reason most guys in porn are big, is because it's hard to shoot smaller guys with the positions we work in and still show the action. The average size of a man is 5.5 inches, so don't freak out, and don't put so much importance on size. A skilled and attentive lover will out do a big guy who has bad skills and is selfish any day.
NB: What are your views on the topic of internet piracy of adult content?
I think it's sad. There were so many companies who hung onto the 1st Amendment 'Freedom of Speech' so tight and did such degrading and brutal porn that the US Department of Justice filed suits against companies for obscenity laws. When it came down to protecting our Intellectual Property cases, the whole industry was kind of lumped into the same heap. It's been hard enough for the Mainstream Movie and Music Industries to protect their work, we were kind of left on our own, and quite frankly, I see why. Our founding fathers were not envisioning some of the stuff that came from our business. The vast majority of the business had good intentions, and produced product that I was proud to be a part of. The real problem is where do you draw the line? What is legal and what is so bad that it's illegal? I think if people used common sense in the past, and our industry was considered 'acceptable', we would have had a chance to get the government to help us fight piracy.
NB: Having served in the US Army, Do you feel the current administration has done enough for veterans? If not, what do you feel needs to be changed?
I believe that proper programs and funding is in place. Families and friends of those returning from wars need help understanding their soldier's issues when they come home. Most people do not want to talk about the horrors they experienced, so finding a way to help them talk is important. Iraq and Afghanistan are becoming wars of 'I was too busy playing video games to know a war was going on' wars. The average citizen has never thanked a soldier for their service…. you don't have to agree with a war to acknowledge someone's sacrifices. The average person doesn't even think about what's going on outside of their own little world. This is the most selfish generation this country has ever produced. It's a recipe for further social decay.
NB: I read that you have a thirst for knowledge and a thrill for learning new things. What famous intellectual (past or present) would you most like to have dinner and a conversation with? What would your top 2 questions be?
John Lennon for sure! He was still a pioneer of the Peace Movements, but you can't formulate a question for someone like him, it would be amazing just to hear him talk about anything. He just had a beautiful mind and a dream for utopia. Just look at the lyrics for 'Imagine' and you can see hope for peace that was sadly taken away from us. I'm actually visiting Strawberry Fields in Central Park soon.
Dr. Martin Luther King. Again, just being near someone with that kind of intelligence, vision and bravery. We have quite a long way to go when it comes to Civil Rights. He did more to change this country for the better in that regard since Lincoln. To take the rage of a race treated so horrifically and repressed… channel it into articulate speech and reason was quite remarkable. Again, silenced….
NB: In closing, is there anything else that you would like the Newzbreaker readers to know?
I guess just treat your fellow human beings with respect, compassion and understanding. If I offended anyone, my bad, it's just my opinions. Spend the first hour of sex concentrating 100% on her needs and you'll never have to wish you had someone in your bed again.
Check out Jack's website.
To read more on Jack, check out Misty Emerald's Reviews of two of his biggest movies.

Loading ...