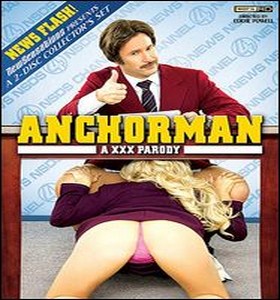 By Misty Emerald
New Sensations brings you Anchorman-A XXX Parody, starring Jack Lawrence as Anchorman Ron Burgundy. After he loses his job as top Anchor on Channel 4 News for wearing a Titty Necklace, Ron Burgundy (Jack Lawrence) must decide if he wants to quit his new job as a door-to-door Cosmetic Salesman.
The old Channel 4 News crew is also back and each one is now unemployed. Brian (Dale DaBone) former Field Reporter quit his day job as a Sanitation Worker. Champ (Eric Masterson) former Sports Reporter was injured on his job as a Car Repairman and Brick (Anthony Rosano) failed as a Florist. The crew is miserable and they pack it up and head from San Diego back to Los Angeles to reclaim their positions at News Channel 4. To accomplish this, he must face off with the new Top Anchor for Channel 4 News and former fling, Veronica Corningstone (Tasha Reign) and her all-female news team.

Ron Burgundy will stop at nothing to make sure that the all-male news team is back on top and #1 on Prime Time. He and his band of misfits devise a plan for Ron to literally charm the pants off of Veronica. It works, and Ron is able to penetrate his way back into Veronica's life. Climbing from the bedroom to the news room and landing a position as a Field Reporter on Veronica's team. It's a battle of the sexes as the guys attempt to infiltrate the girls and screw their way back to the top of the food chain. Find out who wins. Will the new face of News Channel 4 be chicks or dicks? Master manipulation, erotica and loads of laughs, Anchorman is a funny, sexy Parody. I would recommend this movie to those who appreciate porn with a story line and comedic flare. The 2 Disc Collectors Set comes complete with Bonus Features, hilarious out takes and cum shot recaps.