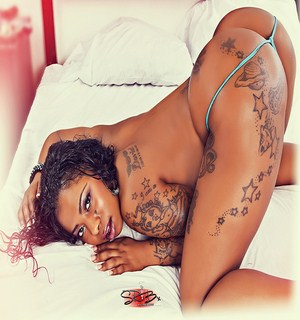 Exclusive Interview by Misty Emerald
"Whenever I argue with my partner I give him oral. It's hard to argue about the little things with a penis in your mouth." – -GoGo FukMe
GoGo FukMe is one rising star you definitely don't want to miss. Her Body Art is truly a "work of art" and her name says it all. She has talent, beauty and a good sense of humor, which are all packaged in the body of a goddess.
Ladies and Gentlemen, Ms GoGo FukMe.
NB: Let's catch the Newzbreaker readers up on what you're doing today?
Well Newzbreaker Readers… I am GoGo FukMe and I am like the greatest porn star in the world… (Big laugh) But no seriously, I do mainstream porn, I'm known for my fetish influences, and www.CrazyBabe.com Photo shoots.
NB: How many adult movies have you appeared in? Which of these films did you most enjoy shooting?
I have done about 5 or 6 mainstream movies but over 30 scenes over the web. My favorite movie was ShowGirlz 2. I'm not on the cover, but my partner was Jon Q and he is awesome.
NB: Is there a porn star that you would like the opportunity to work with?
I would have said Pinky, but just recently I shot with her for her site www.PinkyXXX.com…. So I guess now I can die happy.
NB: Tell me about a time in your career where you had to challenge yourself or step outside of your comfort zone?
Well, never. I have yet to meet a worthy opponent, but maybe when I start anal,I will face some real big challenges.
NB: Do you have any advice or tips for couples out there struggling to keep the passion in their relationships?
Lots of oral. Whenever I argue with my partner I give him oral. It's hard to argue about the little things with a penis in your mouth.
NB: In your opinion, do you think women or men crave sex more?
Definitely men. It's like their brains can't even function properly without sex.
NB: What is your favorite sexual position? Why?
I love them all. It depends on who you are fucking. It's like a restaurant… Each one has their specialty they prepare the best. So, goes for men.
NB: In your opinion, what is the sexiest part of the male anatomy?
His arms! I am a complete arms girl.
NB: How often would you say that female porn actresses fake their orgasms?
I fake it every time. It's sad but porn acting is exactly what it's called…. Acting. So much business and form to it all… It's mostly about angles and details and less about the actual sex.
NB: Who has been the most influential person in your Adult Entertainment career?
My influences are a mixture between Skin Diamond's style… Pinky's business savvy, and Lil Kim's personality… So I guess those three are my biggest influences.
NB: If you could have dinner and a conversation with any one person (past or present) who would it be? What would your top 2 questions be?
I wouldn't have any questions… I would go back in the past to a time when I was like 17 and talk to my younger self and prepare her for the future and give her a cheat sheet for all the moves she needs to make when she/I turn 18. Then I would be Über famous by the time I turned 22 (the age I am currently)…
NB: In closing, is there anything else that you would like the Newzbreaker readers to know?
The only thing they need to know is I appreciate all the sex monsters and freaky freaks like myself. And I would love to kiss and have sex with them all but that would be exhausting and I don't have the time for that. But it's the thought that counts. And that everyone in Newzbreaker world needs to follow me on twitter @GoGoFukMeXXX and on all my other social networks…. Thank you!
Interviewers Note: I would like to thank Tommy, GogoFukMe's manager for coordinating this interview.

Loading ...