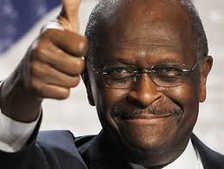 By Geno McGahee
Herman Cain is in more hot water with a Chicago woman, Sharon Bialek, coming forward and stating that Cain had offered her help finding a new job in exchange for sexual favors. She is now the fourth woman to come forward.
Bialek stated that Cain has put his hand under her skirt and pushed her head toward his crotch after a dinner together in 1997. The meeting was concerning ways he might be able to help her find employment. She noted that Cain did back away when asked to stop, but the behavior was beyond inappropriate.
"Just admit what you did. Admit you were inappropriate to people. And then move forward. America is in a horrible turmoil as we all know. We need a leader who can set an example which exemplifies the standards of a good person and moral character. Mr. Cain, I implore you, make this right. So that you and the country can move forward and focus on the real issues at hand," Bialek stated.
She also noted that Cain, after a dinner at an Italian restaurant made more advances in the car, noting "you want a job, right?!"
Bialek is one of four at this time. Cain has denied that any harassment has occurred, but the witnesses from the National Restaurant Association are coming forward and these 4 may just be the tip of the iceberg.
Stay tuned to NewzBreaker for further updates…

Loading ...